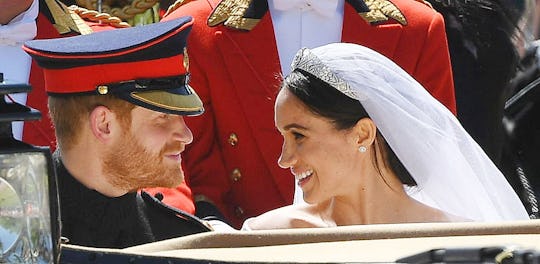 WPA Pool/Getty Images Entertainment/Getty Images
The Royal Wedding *Will* Re-Air — Here's How To Catch It
While many people in the United States woke up bright and early Saturday morning to watch the royal wedding, plenty of others took advantage of it being Saturday and peacefully slept in. However, those who slept through the festivities may currently be experiencing FOMO, and wondering if the royal wedding will re-air on TV in the United States.
Luckily for those who with second thoughts about having missed the ceremony this morning, the royal wedding will be re-broadcast several times on Saturday, on a variety of channels.
If you have cable, tune into BBC America at pretty much anytime Saturday, Sunday, or Monday. The channel will be playing royal wedding highlights as well as a few re-broadcasts of the ceremony in full almost almost all day long through Monday night, notes the schedule on BBC America's website.
HBO's coverage of the royal wedding was a little different than that of most other networks. Will Ferrell and Molly Shannon reprised their roles as the hilarious Cord Hosenbeck and Tish Cattigan to host the royal wedding live from London for HBO on Saturday morning. If you live on the east coast, you can catch their hilarious coverage re-air on HBO Saturday night at 9:45 pm ET, as well as a few times early Sunday morning (3:50 a.m. ET on HBO and 7:00 a.m. ET on HBO2). You can check out the full schedule, for both east coast and west coast viewings, on HBO's website. Additionally, Cord and Tish's coverage will be available for viewing on demand, on HBO GO, and on HBO NOW beginning on Sunday May 20, the website noted.
If you were hoping to catch a replay of Savannah Guthrie and Hoda Kotb's coverage for NBC, you may have already missed your chance. During the network's broadcast Saturday morning, NBC revealed that it would be replaying the royal wedding at 10 a.m. ET. Based on NBC's online schedule, it seems like the channel has no plans to re-air their coverage other than that.
Similarly to NBC, ABC does not have a re-broadcast listed on its website. So if you were curious to hear Robin Roberts' commentary, you may have to resign to highlight clips — of which there are plenty on Good Morning America's website.
Based on the schedule listed on CBS' website, the network has no plans to re-air this morning's live royal wedding broadcast. However, Saturday night at 8:00 p.m. ET/PT, CBS will air a special titled Royal Romance: The Wedding of Prince Harry and Meghan Markle. The special will rehash the highlights of couple's big day, as well as provide additional commentary on what their marriage means for the monarchy, CBS News reported.
No re-broadcast of the royal wedding is listed on Fox's website. PBS does not have a re-broadcast listed on its main channel, but local New York station WLIW21 will re-air the wedding at 7:30 p.m. ET on Saturday night.
So if you want to re-watch the entire ceremony on TV, your best bets seem to be BBC America and HBO. That being said, you can also conduct a re-viewing on your own time, thanks to The Royal Family's official YouTube channel. The channel aired the entire wedding ceremony and carriage procession through Windsor Town, and it's still available for viewing (as is Prince William, Duke of Cambridge and Catherine, Duchess of Cambridge's 2011 ceremony) on YouTube.
Plus, the internet is currently covered in highlight clips from the entire day. Both the Royal Family and Kensington Palace's official Twitter accounts shared a ton of clips and photos from the ceremony and procession.
Whichever way you choose to re-live Harry and Meghan's big day, good luck trying not to cry.