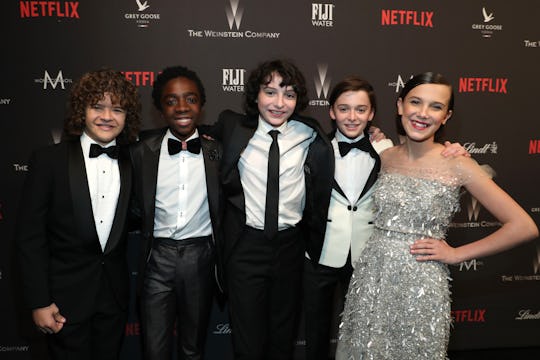 Jonathan Leibson/Getty Images Entertainment/Getty Images
Will 'Stranger Things' Kids Be At The SAG Awards?
Awards season is in full swing and while there has already been a lot of stand out moments, no one has taken awards season by storm like the Stranger Things kids. From their cute outfits to their hilarious interviews to the way they freak out over celebs like I do, they're always fun to watch. So will the Stranger Things kids be at the 2017 SAG Awards? Not only will they be there, they will also be presenting.
According to E! News, Eleven (Millie Bobby Brown), Dustin (Gaten Matarazzo), Lucas (Caleb McLaughlin), and Mike (Finn Wolfhard) are amongst the long list of presenters for the SAG Awards this year. Since Noah Schnapp isn't presenting, it seems fair to assume he won't be there, so prepare yourselves for jokes about how Will is still stuck in the Upside Down. Besides presenting, the kids are also up for their first ever SAG nominations. Stranger Things was nominated for Outstanding Performance by an Ensemble in a Drama Series. Meanwhile, Brown also got her own nomination for Outstanding Performance by a Female Actor in a Drama Series, alongside her costar Winona Ryder. Although I loved Ryder as well, I can't help but hope Brown wins, mainly because I can only imagine what her acceptance speech would be like. She may even rap.
Whether or not they win, whenever the Stranger Things cast gets together it's always a fun time. It's clear these kids have nothing but love for each other (as well as their fans) and it's hilarious to see how different their personalities are. Like when they were asked about their outfits on the Emmys red carpet last year and McLaughlin gave this long answer about how his stylist got him a custom tux and then Matarazzo casually just revealed that he got a rental. Or even better, when they handed out sandwiches during the show in costume and on their bikes. Nothing will beat when they performed "Uptown Funk" during the Emmys pre-show though. Hopefully we'll get a second performance at the SAG awards. Please?
Honestly though, no matter what these kids do I'm sure I'll love it. When they all get together it's a great time and I can't wait to see them back on my television screen and (hopefully) earning awards they so rightfully deserve.
The SAG Awards airs on Sunday, Jan. 29 at 8 p.m. ET on TBS and TNT.