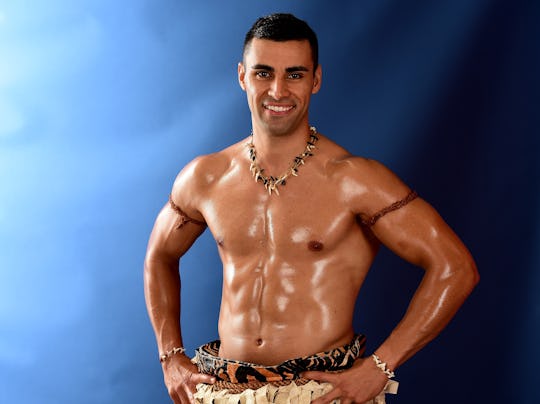 Harry How/Getty Images Sport/Getty Images
Will The Tonga Flagbearer Be At The Olympics Closing Ceremony? We Can Only Hope
The 2016 Olympics have already come and gone and now that we've been wowed by the Final Five, amazed by Usain Bolt, and confused by Ryan Lochte, there's nothing else to look forward to but wondering if the Tonga flagbearer will be at the Olympics closing ceremony? Because isn't that what the games are really about? In case you missed the Opening Ceremony, the Tonga flagbearer, Pita Nikolas Taufatofua, stole the Internet's hearts. He is 32-years old and qualified for the taekwondo events this year after just striking out of the last two games. But it wasn't his underdog story or athletic prowess that had viewers mesmerized — it was his ridiculously oiled body as he marched with his country.
Yes, it was a little objectifying — but between his build and the oil, he became an Internet sensation, though it's not clear if he'll be around on Sunday night to celebrate the end of the Summer Games. Teammates choose the closing ceremony flag bearer, and then there is another vote to ultimately decide. Tonga's team might pick someone else to get the love this time around.
Usually, countries tend to mix up the opening and closing ceremony flag bearers and sometimes athletes don't even stick around in Rio until the end of the games and Taufatofua was scheduled to compete on Saturday in the taekwondo competition, so he'll probably be there on Sunday night, along with the 6 other Tongan athletes.
Even is he doesn't get chosen to carry the flag, Taufatofua's already done a world of good for Tonga. He's actually from New Zealand, and was competing for Tonga because of his father's heritage. But his glossy appearance at the beginning of the games has already sparked interest in the small South Pacific island. According to The New Zealand Herald, Taufatofua said, "It's a great opportunity to get Tonga and the Pacific out to the world. The publicity for Tonga has been great. People have been searching more for flights to the island and checking out what to do once they get there, too, according to Travel Pulse.
The closing ceremony begins on Sunday at 7 p.m. ET. The torches will be handed over to representatives of the Tokyo 2020 games along with the Japanese anthem. Kygo, an emerging DJ and Julia Michaels will perform along with other global musicians. If the closing ceremony is anything like the opening one, it's bound to be a big, crazy night. Even if there are no coconut-oiled flag bearers.