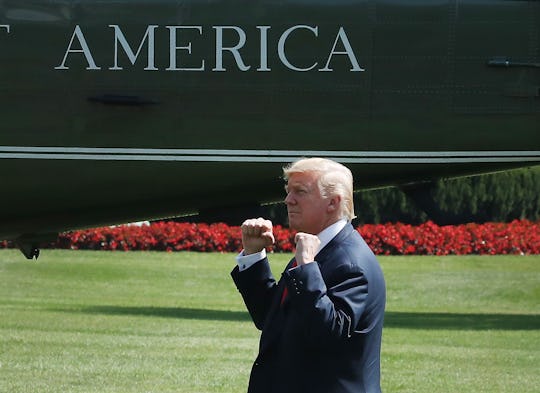 Mark Wilson/Getty Images News/Getty Images
North Korea Is Examining Some Pretty Serious Plans Of Attack
Look, we live in a time when a reality television star is the leader of the free world, and we can order food delivery without ever having to speak to an actual person. As Charles Dickens lamented in A Tale Of Two Cities, it really is "the best of times," and "the worst of times." But when nuclear warfare is brought up, things start to seem a lot more grim than usual. And after President Donald Trump decided to unleash some intense comments towards North Korea, many are wondering: Will the United States and North Korea go to war? Trump's comments could have lasting consequences.
After hearing that Pyongyang, North Korea's capital, has expanded its nuclear capabilities, President Trump had some choice words to say on the matter. According to The Hill, Trump spoke to reporters at his golf club in Bedminster, New Jersey, saying:
North Korea best not make any more threats to the United States. He has been very threatening beyond a normal state, and as I said they will be met with fire, fury and frankly power, the likes of which this world has never seen before.
And while many have brushed off Trump's comments as just the latest example of the president lashing out, these remarks are actually extremely worrisome.
Because now, Reuters has reported that North Korea is moving forward with plans to strike the United States territory of Guam, mere hours after Trump's thoughtless remark. A military spokesperson for North Korea said:
The KPA Strategic Force is now carefully examining the operational plan for making an enveloping fire at the areas around Guam with medium-to-long-range strategic ballistic rocket Hwasong-12 in order to contain the U.S. major military bases on Guam including the Anderson Air Force Base.
To put that in lay man's terms: North Korea could potentially fire an air strike on United States' territory, as soon as leader Kim Jong Un gives the say-so. And a large reason for that could very well be the erratic and irrational mumblings of the United States president.
In fact, Trump's latest comments are troubling to many in Washington, as John McCain told KTAR radio that "The great leaders I've seen don't threaten unless they're ready to act and I'm not sure President Trump is ready to act." However, North Korea has made it plenty clear that they are, in fact, ready to act.
Another military spokesperson for the country, "accused the United States of devising a "preventive war,"" Reuters reported. They also "said any plans to execute this would be met with an "all-out war wiping out all the strongholds of enemies, including the U.S. mainland.""
So yes, those Trump comments are important, and they're also not normal.