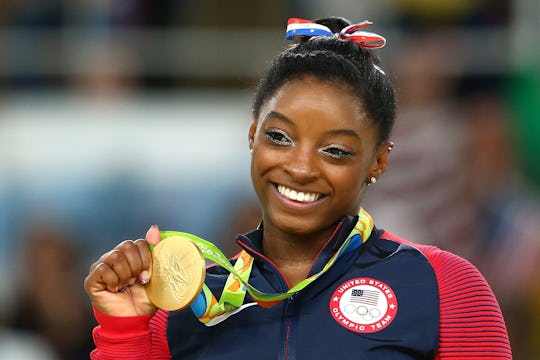 Alex Livesey/Getty Images Sport/Getty Images
Will The U.S. Women's Gymnastics Team Be At The Olympics Closing Ceremony?
After two weeks of fierce, exciting athletic competition, the 2016 Summer Olympic Games are coming to a close in Rio de Janeiro's Maracanã Stadium. The same creative team that was behind the opening ceremony will bring the final festivities to life, and the ceremony will reportedly highlight Brazil's joyful culture, as well as what they deemed a successful Olympic run in Rio. The best part of any closing ceremony, though, is seeing all your favorite athletes together one last time. The fan favorite U.S. women's gymnastics team will be at the ceremony and it's sure to be an extra special occasion for the "Final Five," as one of their own was selected to carry the American Flag during the festivities.
19-year-old Simone Biles was chosen as the Team USA flag bearer for the closing ceremony on Sunday. Biles absolutely dominated in every event she competed in this year, and the first time Olympian is going home with a whopping five medals, four of which were gold. Now, Biles can add Olympic flag-bearer to her ever-expanding resume, as well.
Biles is now widely considered to be the greatest gymnast in the world, so it makes sense she was selected to represent Team USA at its final appearance in Rio. Of course, like any normal human would, Biles celebrated by shouting out Zac Efron on Twitter.
Biles spoke with TeamUSA.org about her reaction to being chosen as flag bearer, noting that the opportunity was an "incredible honor":
It's an incredible honor to be selected as the flag bearer by my Team USA teammates. This experience has been the dream of a lifetime for me and my team and I consider it a privilege to represent my country, the United States Olympic Committee and USA Gymnastics by carrying our flag. I also wish to thank the city of Rio de Janeiro, and the entire country of Brazil, for hosting an incredible Games.
Biles is only the second gymnast to ever be chosen to serve as the flag bearer for the United States at an Olympic opening or closing ceremony. On top of that, she's also the first ever female gymnast to be selected. Is anybody surprised that this top notch gymnast is making history, up to the last possible second at the 2016 Olympics? I'm definitely not.
Biles has been enjoying the last few days leading up to the closing ceremony with her teammates. She hit the beach in Rio with Aly Raisman and Madison Kocian (all of whom made sure to show off their insane six-pack abs) to relax after a long two weeks of competition. The girls also enjoyed some local cuisine, with Raisman posting a cute video of the Final Five trying Brazilian kiwi together just hours before the closing ceremony was set to start. The girls will all be by Biles' side as they represent the U.S.A in Rio one last time.
It's sad to see the Olympics come to a close, not only because the games are so much fun to watch, but because it's going to be another four years until all our favorite athletes are together again. It's sure to be a great show, though, so tune in to NBC at 7 p.m. ET to catch one final glimpse of Team USA and the Final Five.