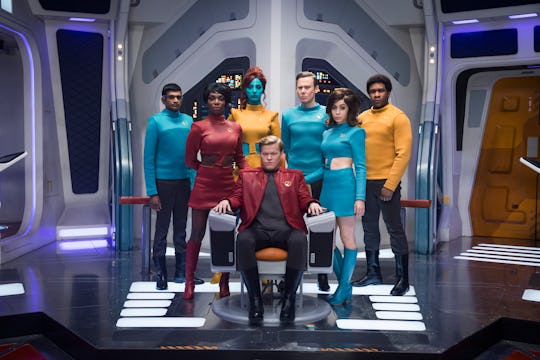 Jonathan Prime/Netflix
This Popular 'Black Mirror' Episode From Season 4 Could Get A Spinoff
When Black Mirror opened its fourth season with a shot of Jesse Plemons dressed like Captain Kirk in a grainy, retro show-within-a-show, the internet collectively geeked out. Memes were born. Endless screenshots were posted to Twitter. And the episode itself was actually really good! So good, in fact, that it has fans wondering: will the "U.S.S. Callister" episode of Black Mirror get a spinoff? It's definitely being discussed by the creators behind the episode.
"U.S.S. Callister" serves as the Season 4 opener of the anthology sci-fi series, which dropped on Netflix New Year's Eve weekend, and it's already being called "the San Junipero of its season," in reference to last season's Emmy Award-winning breakout episode. The biggest thing they share in common is that they both feature a happy ending, which is rare in the Black Mirror universe. Each standalone episode of the show usually depicts a bleak dystopia ushered in by technology run afoul. But in the case of "U.S.S. Callister," Plemons' sadistic and tyrannical Captain Daly is successfully overthrown by his crew, led by a woman he routinely tortures and harasses named Nanette Cole. She emerges the unlikely heroine of the episode and winds up taking over the ship.
The premise is obviously an homage to Star Trek, but in an updated twist, the U.S.S. Callister is actually a virtual reality game invented by Captain Daly's real-life alter-ego, Robert Daly. Robert is the unhappy CTO of a virtual gaming company and he has created the U.S.S. Callister as his own offline skin of the game he invented, inspired by his favorite (fictional) show Space Fleet. All the characters in the game are his real-life coworkers whose DNA he stole to digitally upload their consciousness into the game. The result is the characters inside the game are real people with full knowledge of the real world, who are "stuck" in virtual reality.
It's a familiar premise, sort of like The X Files episode "First Person Shooter," but the Black Mirror episode is unique in how much detail and texture it manages to pack into the universe in 76 minutes. And lots of people have noticed what a good setup it would be for its own spinoff series. The episode's director Toby Haynes told The Hollywood Reporter in an interview:
I was talking with Louise Sutton, who produced this and "Metalhead," and she cooked up a brilliant idea of spinning it off into a TV series. I'd love to do a TV series of "USS Callister" — it's probably one of the best pilots for a space show ever. And I made it! So I'm keen to see it as a TV series.
He also mentioned the possibility of revisiting the world in another Black Mirror episode. "There is this brilliant idea that [Daly] is still alive, and his attempted murder gets pinned on someone," he speculated. "Whose fingerprints do they find in the apartment? There's so much you could do. Fingers crossed, you never know."
Cristin Milioti, who played Nanette, echoed a desire to carry on with the project, telling The Hollywood Reporter:
I would die if they turned this into a spinoff series because I do want to see that group of people figure it out, because it's so real. They're very funny and very dysfunctional, but it's also a group of coworkers from an office — it's like The Office in space. They're stuck in this thing they didn't even create and they would just have to battle aliens. It's such an incredible concept. Maybe that's wishful thinking on my part, but I would love to see that.
There aren't any plans in place just yet to make this happen, but the fact that the episode's producer, director, and star are all excited about its future is definitely promising.
Check out Romper's new video series, Romper's Doula Diaries:
Watch full episodes of Romper's Doula Diaries on Facebook Watch.