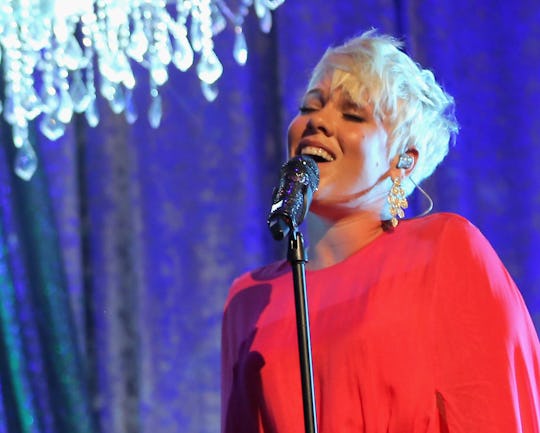 Chelsea Lauren/Getty Images Entertainment/Getty Images
Will The VMAs Be Live? It Could Get Wild
The 2017 MTV Video Music Awards, also known as the VMAs, air on Sunday at 8 p.m. Eastern Time on MTV. But will the VMAs be live? There are going to be a ton of exciting performances featured on the awards show, including a performance by Pink, who will receive the Michael Jackson Video Vanguard Award during the broadcast, according to The Hollywood Reporter. Pink will perform her new single "What About Us," from her next album, Beautiful Trauma, live during the ceremony, according to PEOPLE.
The VMAs will air live on MTV from the Forum in Inglewood, California, on Aug. 27. Be sure to check what time it's on TV where you are, so there's no chance you'll miss it if you want to catch all the action in real time. In addition, Heavy reported that the VMAs will be available to watch online via some live stream options that night as well.
In 2015, Rolling Stone reported that some skits were pre-recorded before the awards show that year, and that may also be the case this time around. But for the most part, as far as performances and the broadcast in general, the VMAs should be a live show.
Like any awards show, there's been a lot of controversy surrounding the nominations. Digital Music News reported that the video for Luis Fonsi's track "Despacito" featuring Daddy Yankee — which is now the most watched music video on YouTube — was ruled ineligible for this year's awards by MTV executives.
MTV stated that Universal Music Latin Entertainment (UMLE) didn't submit the song for consideration, according to Digital Music News. But UMLE reported in a statement that MTV didn't ask the label to submit the video until two weeks after the network had announced its VMA nominees anyway.
Apparently, "Despacito" only airs on MTVTres, the network's Latin channel, and according to Entertainment Weekly, MTV has declined to state why it won't air "Despacito" on its main channels like MTV or MTV2. As a result of that, and the possibility that MTV ignored a potential Latinx nominee, there's backlash to the awards show.
Romper reached out to Viacom, which MTV is a subsidiary of, for comment on the lack of a nomination for "Despacito" and allegations that the network ignored a Latinx nominee and song. As of publication the company had not responded to our inquiry.
Fans of the song or the artists involved with it were not pleased by the news that it hadn't been nominated. On Twitter, many posted about their displeasure with what they saw as a snub by the network.
Katy Perry will host the MTV Video Music Awards, and Perry and Taylor Swift might reportedly surprise fans by performing together on stage during the VMAs, according to the International Business Times. This would be especially noteworthy, because according to Seventeen, Swift and Perry have been in an "escalating feud" for awhile, and Perry has said she's ready to let the feud die and put aside their differences.
In addition, fans of performers like Kendrick Lamar and The Weeknd will want to tune in. According to The Hollywood Reporter, Lamar leads this year's VMA nomination numbers with eight, while Perry and The Weeknd are tied for second place with five nominations each.
As for who else will actually be performing during the live show, Refinery29 reported that Ed Sheeran, The Weeknd, Lorde, Miley Cyrus, Fifth Harmony, Shawn Mendes, and Thirty Seconds to Mars are all scheduled to perform during the VMAs.
And even if Perry and Swift don't perform together along with those other acts, Perry as a host is sure to still be entertaining. Who knows what could happen?