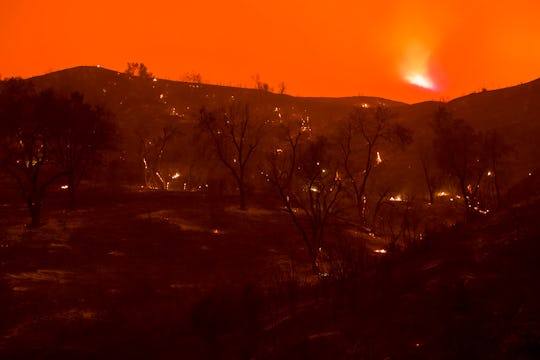 David McNew/Getty Images News/Getty Images
Portland Is Safe From California's Wildfires For Now
Multiple wildfires are currently raging out of control in California, and despite their best efforts, authorities are unable to contain the blazes. This might leave some worried about California's neighbors to the north, where heavily forested areas make them susceptible to further devastation. But if you're worried that the wildfires will reach Portland, Oregon, you can rest easy; as of now, there's no indication that America's weirdest city is in any danger. In fact, Oregon is sending its best and bravest south to help out.
The Oregon State Fire Marshal's Office has sent 15 strike teams to California to help contain the fires, according to Oregon Live. Firefighters from Multnomah, Washington, and Clackamas counties have been called down for the second time this year to assist their neighbors, and the American Red Cross has sent disaster relief responders from Beaverton and Oregon City, as well as Vancouver, Washington. More assistance is expected to be deployed soon. Oregon previously sent firefighters to battle wildfires in Northern California in October, according to Portland's KGW-TV, just as California send its own firefighters to assist Oregon with another wildfire over the summer. Neighbors who let you borrow tools are all well and good, but neighbors who brave forest fires for you? Pretty impressive.
Oregonians are no strangers to wildfires; its own Eagle Creek fire, a 48,831-acre blaze that started in September, was only just contained last week, according to Oregon Live. "Contained" doesn't mean that it's out completely, however, and there may still be smoldering hot spots in remote areas of the Columbia River Gorge. The blaze was allegedly started by a 15-year-old who was playing with fireworks, and the teen has been charged with reckless burning, criminal mischief and reckless endangerment. Fighting the destruction for the ensuing three months cost authorities at least $20 million.
And it was just this past June that Oregon ranchers were finally able to resume grazing their cattle on the thousands of acres of public land that were burned in 2015 wildfires, according to U.S. News & World Report. The Bureau of Land Management had to close 279,000 acres of land for two years, but grazing is now back up and running on 48 of the 84 affected pastures in Oregon and Idaho. The BLM plans to protect the land by creating 200-foot roadside buffer areas to reduce the spread of future fires.
The California fires, exacerbated by dry vegetation, low humidity, and the Santa Ana winds, have been raging in Los Angeles and Ventura counties since Monday. Winds of up to 80 mph are expected on Thursday, according to ABC News, which could cause the fires to spread further. The Thomas fire in Ventura county, the first to ignite, has burned about 96,000 acres of land. It started Monday night, and grew to 10,000 acres in four hours. The Rye and Creek fires in Los Angeles County represent another 17,000 acres, according to the National Wildfire Coordinating Group.
The Skirball fire, the smallest of the four, has burned less than 500 acres, ABC News reported, but it's notable for its proximity to heavily populated areas. It shut down the 405 freeway on Wednesday, and all Los Angeles Unified School District schools will be closed through Friday. The Thomas fire is the northernmost of the four blazes, but it's currently limited to the southern border of Los Padres National Forest, nearly 1,000 miles south of Portland. Wildfires can spread with a speed of up to 6 mph, according to Forbes, meaning it would take at least a week to travel to Portland, and that's assuming it could jump the the 60-mile gap from Los Padres to Sequoia National Forest, traveling over the more developed Bakersfield area. Portland is safe for now, but California still has a tough road ahead.
Check out Romper's new video series, Romper's Doula Diaries:
Watch full episodes of Romper's Doula Diaries on Facebook Watch.