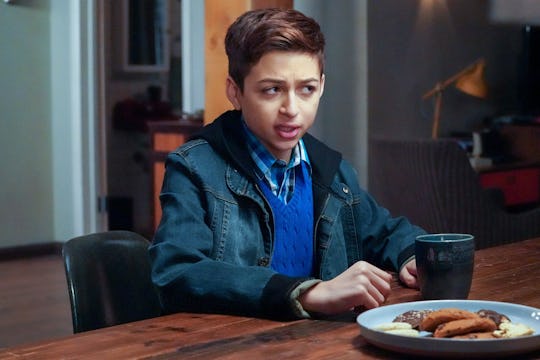 Evans Vestal Ward/NBC
The Fate Of NBC's 'Champions' Still Hangs In The Balance
Created by Emmy-nominee Mindy Kaling, Champions has received mixed reviews over the course of its freshman season, but has still garnered a healthy fanbase. So with the show about to close out its first season, it shouldn't be all that shocking that fans are asking will there be a Champions Season 2? Unfortunately, the comedy hasn't been picked up for a second season just yet, and, honestly, the odds aren't looking too great.
The ratings haven't been all that high, with the highest being 3.020 million viewers during the show's second week and then getting increasingly lower after that. Still, ratings aren't everything and NBC may be willing to save it and give it another shot with a second season. The network does have a running relationship with Kaling, who wrote for the hit comedy series The Office, so that may give the show some pull.
If you're unfamiliar with Champions, the series follows Vince (Anders Holm), a charismatic gym owner with no ambition who lives with his younger brother Matthew (Andy Favreau), who's attractive but not that bright. Their simple life of dating and working out is put on hold when the teenage son of Vince, Michael (J.J. Totah), is dropped off on their doorstep by one of his high school flings, Priya (Kaling).
While the premise of a guy suddenly finding out he has a kid isn't new, Kaling has of course put her own touches on it. For instance, Vince wasn't too surprised to discover he had a son since he actually knew about Michael all along. Turns out Priya decided to raise Michael on her own, but since Michael complained about needing to see New York since he was around four, Priya decided now was the perfect time for a father-son reunion. Also, it turns out the real reason Michael desperately wanted to go to New York now was so he could audition for the Manhattan Academy for the Performing Arts. And also, he's gay.
However, unlike other series that make a gay kid's coming out story a point of drama and conflict, Michael's sexuality is merely just one aspect of his character and viewed as no big deal, which is really refreshing.
That being said, the major critique for the series is sometimes Michael's over the top character can feel inauthentic. Los Angeles Times said, "Michael falls prey to sounding less like a kid than a tireless vehicle for quips that don't always square with his character." They also suggested that his lines sound more like they were coming from "a 30-something sitcom writer," which they obviously are but it shouldn't feel that way. Despite the criticisms though, fans seem to love Michael's witty jokes, so it's really just a matter of opinion.
Besides the funny lines, if you were a fan of The Mindy Project, Champions has a number of familiar faces. Along with, Kaling and Holm, Fortune Feimster, who also had a recurring role on the later seasons of The Mindy Project, stars on Champions as Ruby, one of the trainers at Vince and Matthew's gym. You may also recognize Shabaz (Yassir Lester), who had a small role on The Mindy Project as a guy named David.
If you haven't watched Champions yet it's definitely worth a watch. Despite the critiques, the show is bringing something new to the table with its diverse and fun cast. So definitely give it a try if you haven't already.
You can watch the Champions Season 1 finale on May 3 at 9:30 p.m. ET on NBC.
Check out Romper's new video series, Romper's Doula Diaries:
Watch full episodes of Romper's Doula Diaries on Facebook Watch.