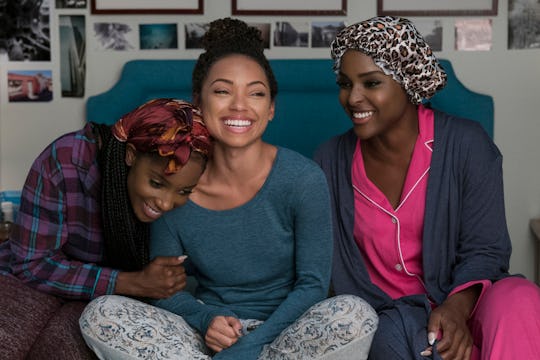 Saeed Adyani/Netflix
Here's Why 'Dear White People' Deserves A Third Season
The second season of Dear White People hit Netflix on May 4, but fans are sure to be eager for the next installment once they make their way through all 10 episodes. But will there be a Dear White People Season 3? Unfortunately, it's just too soon to say. Netflix rarely announces a show's renewal on the same day that it premieres; the first season debuted on April 28, 2017 but Season 2 wasn't announced until June. That means it could be a couple of months before fans of the series find out if there's going to be more.
The show explores the racial tensions between students at a fictional Ivy League college called Winchester University. It was originally based on the satirical Justin Simien film of the same title, picking up the story with the same characters and some of the same cast members. It's been timely in the topics it discussed since day one, and it continues to reflect the real world throughout Volume 2. Navigating such complicated (but very familiar) themes with humor while still giving them the weight they deserved made it a success.
Unfortunately, it isn't always easy to predict what shows Netflix will choose to move forward with.
Netflix doesn't provide the general public with information about viewing numbers and ratings, so it can be difficult to determine how many people are watching and what they're giving their attention to. Some shows that have received an immediate negative response from viewers and critics were cut before they could continue (cough Girlboss cough) but other shows lost out because of different reasons despite having small, dedicated fanbases (such as Sense8 or The Get Down).
However, it seems like Dear White People is enjoyed by audiences and critics alike, with Indiewire calling it "one of last year's best Netflix surprises." That could bode well for a possible Season 3. There was some backlash against the show from very specific groups online following its initial announcement, but that controversy ended up finding its way into the fabric of Season 2. Simien talked to USA Today about the decision to make internet trolls part of the story, saying:
It's a new weapon, this idea of using outrage to rile people up across the ideological spectrum. [The series] got "backlash" on the Internet and I started to understand how these bots and trolls were being used to make a marginal community seem a lot louder and more powerful than they are. The more I looked into history and tried to figure out how we got here, the more I realized this is a common feature of [white] America, that idea of, "What are you guys complaining about? You're free." That's been used against black people literally since slavery was abolished. We wanted to explore that, and also, who are these voices behind [alt-right accounts] and how did they get there?
Simien went on to discuss how white nationalists used the internet to plan strategic sabotage of projects about black people. He noted that "the vitriol was not only so specific, but so repetitive. It was clear it wasn't coming from people who had seen the show at all or had any context." Bringing that into the series proves how of the moment Dear White People is, and how engaged it is with current topics in the media. It would be great to see it continue for that reason alone, but something Simien said to the Huffington Post was just as significant:
You know, the show is many things, but one of the things it is is an opportunity to sort of tell stories that involve black people that I haven't really seen anywhere else before.
Dear White People is a unique series and hopefully it will get the chance to continue telling those stories in Season 3.
Check out Romper's new video series, Romper's Doula Diaries:
Watch full episodes of Romper's Doula Diaries on Facebook Watch.