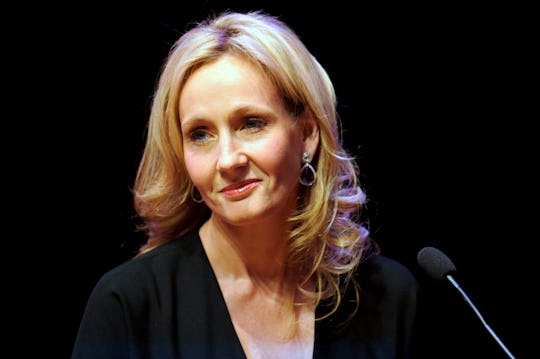 Ben A. Pruchnie/Getty Images Entertainment/Getty Images
Will There Be A 'Fantastic Beasts' Sequel? J.K. Rowling Wants Fans To Know There's Plenty To Look Forward To
Fans of the late, great Harry Potter film series have a lot to look forward to, because author J.K. Rowling re-confirmed on Twitter this week that not only will there be a Fantastic Beasts sequel, there will be a trilogy. And since "trilogy" these days tends to mean "if the first three are profitable, we'll make ten more," it wouldn't be at all surprising if there are many Harry Potter spinoffs in our future.
"Fantastic Beasts will be three movies," Rowling wrote on her personal account Monday, denying rumors that another of her works, a play called Harry Potter and the Cursed Child, was getting the film treatment as well.
Fantastic Beasts and Where to Find Them has in interesting history. It started out as a faux textbook penned by Rowling in 2001 as a sort of tongue-in-cheek companion to Harry Potter and the Sorcerer's Stone, the first Harry Potter book. In Sorcerer's Stone, Fantastic Beasts is referenced as one of the textbooks that Harry is assigned to read as part of his first year of education at the Hogwarts School of Witchcraft and Wizardry.
Rowling wrote Fantastic Beasts for the specific purpose of benefitting Comic Relief, a British charity that disperses 80 percent of funds raised from the book's sale to various international relief organizations. The textbook details the varieties of beasts found in the Harry Potter universe, and it's penned by magizoologist Newt Scamander—magizoology, of course, is the study of magical creatures.
In 2013, Warner Bros., the studio that produced the Harry Potter films, announced the production of Fantastic Beasts. Even better, Rowling announced on her Facebook page that the film would be her screenwriting debut. Beasts will follow the adventures of Newt Scamander, the very author of the textbook that Harry and his friends study at Hogwarts. Scamander finds himself in a bit of a pickle after he accidentally lets many of his fantastic beasts loose in New York City. Rowling noted specifically that,
Fantastic Beasts and Where to Find Them is neither a prequel nor a sequel to the Harry Potter series, but an extension of the wizarding world. The laws and customs of the hidden magical society will be familiar to anyone who has read the Harry Potter books or seen the films, but Newt's story will start in New York, 70 years before Harry's gets underway.
Rowling clearly isn't lacking in ideas about the wizarding world. News initially broke that the Fantastic Beasts series would be made into three separate films back in 2014, prompting fans everywhere to collectively lose their minds. There have been very few specifics, though, about the storylines for these coming films, so Twitter pretty much imploded this week when Rowling referenced the movies and assured everyone that, yes, there really will be three.
Rowling was responding to an optimistic yet confused fan who thought that Harry Potter and the Cursed Child — an upcoming British play that will feature the characters Harry Potter, Hermione Granger, and Ron Weasley 19 years after they graduate Hogwarts — would be a movie. Rowling explained that Cursed Child is a play, not a movie, but fear not, because we have Fantastic Beasts to sate our palates.
The first Fantastic Beasts movie is scheduled to be released worldwide on Nov. 18. It's a good thing for Warner Bros., too, because according to The New York Times, the film will probably be the studio's biggest moneymaker of the year. It was Warner Bros., actually, that first approached Rowling with the idea of her developing a new film franchise. The studio was surely relieved to learn that Rowling has lots of stories to tell about the wizarding world—and we are ready and waiting to hear all of them.