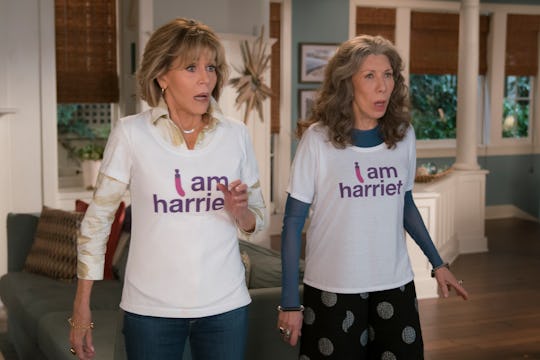 Melissa Moseley / Netflix
Jane Fonda & Lily Tomlin Are Still Comedy Gold On 'Grace & Frankie'
Season 4 of Grace & Frankie is finally here, so prepare to see Jane Fonda and Lily Tomlin get into even more hilarious situations. Although the new season just released today, fans are undoubtedly already wondering: will there be a Grace & Frankie Season 5?
Of course, right now it's a bit too early to call and there's been no word on what's next for the Netflix comedy series. For now, the best way to ensure the show gets another season is to just keep watching the latest episodes and telling everyone else you know to do the same. That certainly shouldn't be too difficult to do since the new season looks to be just as funny as the first three installments, if not more so.
In the new season, Grace and Frankie are still selling their vibrators, except this time they're bringing their products to a different kind of consumer than what they'd initially envisioned. Instead of sticking with just an older clientele, you'll find them setting up a table on a college campus. Naturally, this doesn't go over well. At the same time, Grace is struggling with her bad knee and doing everything in her power to pretend like she's perfectly fine, which leads to disastrous results. She's also trying to get back on the dating scene, with help from Frankie, of course.
Meanwhile, Frankie is excited because she's about to have her first grandchild. In the trailer, she awkwardly tries to help Bud's girlfriend, Alison, give birth by saying, "Here baby, baby, baby," as if beckoning it to walk out of the womb. Grace and Frankie will also be bombarded with what looks to be an intervention by their kids to discuss their health.
As for Grace and Frankie's exes, Rob and Sol, they're going through a rough patch in their marriage right now and seek counseling. It's suggested they consider an open marriage, which seems to work out more for Sol than for Robert. Could it be that these two are heading toward a divorce? Hopefully not, though that would be some interesting karma for Grace and Frankie.
Another thing to look forward to in the fourth season is a guest appearance by Friends alum Lisa Kudrow. She'll be playing Sheree, Grace's manicurist of 20 years. Sheree is obsessed with rhinestones and she brings out an even more fun side of Grace. Other guest stars appearing in this season are Peter Gallagher, who's reprising his role as the flirty businessman, Nick, and Lorraine Toussaint, who'll play Rob and Sol's therapist.
Although Grace & Frankie may not be as popular as some other Netflix series like Stranger Things and Black Mirror, the show has amassed its own impressive following. It's also received the recognition it deserves in the form of award nominations. Both Jane Fonda, who plays Grace, and Lily Tomlin, who plays Frankie, have received Emmy nominations for their roles. Additionally, both women have been nominated for SAG awards in Outstanding Performance by a Female Actor in a Comedy Series this year and last year.
Obviously, the show has become quite a hit and if you haven't seen it yet, definitely check it out. Each season is only 13 episodes long that each last around a half hour, so it's a quick and easy binge. Now is the perfect time to catch up since this will most likely be what a lot of people are talking about for the rest of the weekend. So get comfortable, put on your pjs, and get sucked into the world of Grace & Frankie. You won't regret it.
Check out Romper's new video series, Romper's Doula Diaries:
Watch full episodes of Romper's Doula Diaries on Facebook Watch.