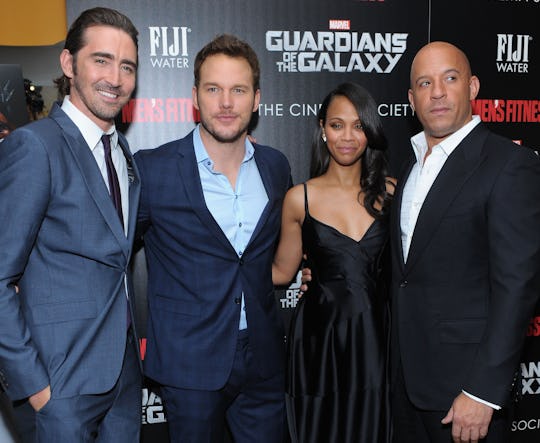 Andrew Toth/Getty Images Entertainment/Getty Images
The 'Guardians Of The Galaxy' Franchise Keeps Expanding
There's no denying that Guardians of the Galaxy is one of the most popular additions to Marvel's sprawling film and TV franchise. Fans were drawn to its interesting array of lovable losers, as well as its sense of humor and fun. Guardians of the Galaxy Vol. 2 is out on May 5, but just because the movie is newly released doesn't mean it isn't already time to keep an eye out for the next one. Marvel movie franchises generally result in a trilogy following the same characters, along with plenty of crossover films. So how sprawling is the galaxy going to get?And will there be a Guardians of the Galaxy 3?
Good news and bad news, fans: the third film has already been confirmed, but it's also confirmed to be the last one in the franchise. Writer and director James Gunn told Variety that he would be returning for the next film, but that it would likely be the one to bring the series to an end. "I think that the third movie is going to continue this trilogy, the story of this iteration of the Guardians of the Galaxy," Gunn said. "It's going to do it in a big way, and we're going to come to an epic conclusion of who the Guardians are and why they were brought together, and I can't wait to tell that story to the people. It will be the final, in this iteration of the Guardians of the Galaxy."
Gunn was initially uncertain about revisiting the characters a third time, if only because he didn't want to risk creating a lackluster film. But luckily, the project was too close to his heart to pass up. "In the end, my love for Rocket, Groot, Gamora, Star-Lord, Yondu, Mantis, Drax, and Nebula – and some of the other forthcoming heroes – goes deeper than you guys can possibly imagine," Gunn announced on Facebook. "And I feel they have more adventures to go on and things to learn about themselves and the wonderful and sometimes terrifying universe we all inhabit. And, like in both Vol. 1 and Vol. 2, we will work on creating the story that goes beyond what you expect."
But don't worry about the end just yet – there are still a few years to go before Guardians of the Galaxy 3 makes it to theaters. It isn't even in production yet, so there is plenty of time for fans to prepare for the final installment. There's usually a gap of a few years between each new release, especially because Marvel has so many film series going at the same time. The third Guardians movie probably won't hit the big screen until 2020 or so, with the motley crew making an appearance in Avengers: Infinity War before that. The end might be near, but it's not too near yet.