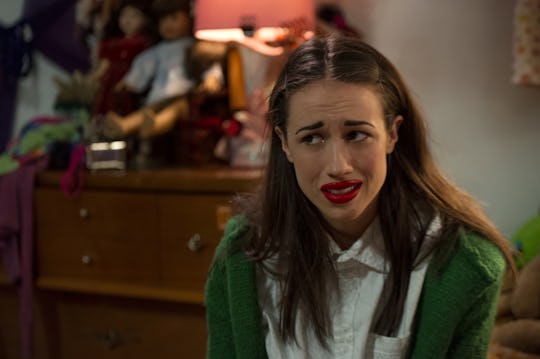 Carol Segal/Netflix
Will There Be A 'Haters Back Off' Season 2? Miranda Sings Will Rely On Her MirFANdas
With the premiere of Youtube star Miranda Sings' Netflix series Haters Back Off! which is named for one of the star's catch-phrases, her Mirfandas (that would be Miranda's name for her fans) are already wondering will there be a Haters Back Off season 2. If the show is popular enough, there's no reason for there not to be, but there's no word on a continuation just yet.
The Netflix series is based on the internet superstar Miranda Sings, who is actually just a character created by actress and comedian Colleen Ballinger. Miranda is a homeschooled and infantile young woman, though her exact age is never explicitly stated. With slathered on red lipstick, signature sweatpants, center part, and atonal singing, Miranda has a deluded sense of her own talent. She honestly believes that she is a famous star, it's just that no one knows it yet. A parody of everyone who has ever sought fame on the internet, the Miranda from her Youtube videos gets a back story with the series, with a ready made fan base who already adore the hilarious and quirky character. It's the first time an unscripted Youtube show has made it's way to a scripted series.
Reviews of the show are mostly positive, drawing comparisons to Napolean Dynamite and its unself-aware anti-heroine to the likes of The Office and Eastbound and Down. The LA Times remarks, "For the viewer, the question isn't whether she's going to get famous — clearly, she doesn't deserve to, but if she does, fine, we have seen that story before — but whether a sliver of empathy will penetrate her self-obsession. The show draws you on with this promise."
Reviews weren't overwhelmingly glowing, however, remarking that at times Miranda's grating personality (and singing) were perhaps just a little too grating. While Miranda's over-the-top persona works well in a 2-minute Youtube clip, perhaps she's just a little too extra to sustain an entire series.
Fans of the series will of course disagree, and in the end, it's their opinion that really matters. So if they want a Season 2, Mirfandas have to let their desires be known to the powers that be. And the haters, well, they can back off.