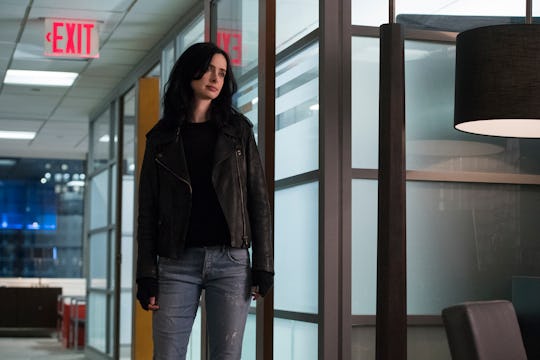 David Giesbrecht/Netflix
Here's When You Can Expect 'Jessica Jones' Season 3 To Premiere
An all-new season of Jessica Jones is finally here and it's been long overdue. Although fans got to see Jessica in The Defenders last summer, it's been a while since we've seen her starring in her own series. Now that the show is back and will probably be binged within the next 24 hours, fans are already wondering: will there be a Jessica Jones Season 3?
The series hasn't been renewed for a third season yet, but that doesn't mean it's not going to happen. Currently Netflix has a number of Marvel shows coming down the pipeline, including the second seasons of Iron Fist, Luke Cage, and The Punisher, and the third season of Daredevil. Thus the docket is pretty packed right now and will probably be full from now until at least midway through 2019. And since these shows all take place in the same world of New York City, it's imperative that they all remain in a chronological timeline that makes sense.
So while I'd love to see the third season of Jessica Jones released in a timely fashion, it's much more likely that there will be another three year wait between scenes. That being said, I think we can all agree that the wait between seasons is totally worth it, so if we have to wait for a third season then so be it. Besides, if we're lucky, Jessica may crossover into another one of the Marvel series or there could be a second season of The Defenders before then.
For now there's a lot to look forward to in Season 2. When the first season left off, Trish and Jessica had discovered that a mysterious company called IGH had paid Jessica's medical bills. This was the same group that Dr. Kozlov worked for. If you recall, Kozlov was the one who gave Simpson the drugs that made him strong but also very volatile. Thus, IGH is definitely a bit sketchy to say the least.
In the trailers for the new season, Jessica is obviously searching for answers about her past so she can learn how exactly she got her abilities and why. There are also a number of new characters in the series along with a lot of familiar faces. Thankfully, Jessica's neighbor, Malcolm, is still clean and looking better than ever. Jeri Hogarth is also back, though when the first season of Jessica Jones ended, she and Jess weren't exactly on good terms, so it'll be interesting to see how that plays out.
Trish was also seen kicking ass in the trailers and suggesting that Jessica needs a sidekick, which may lead some fans to theorize that this is the season when Trish will become Hellcat. There's a long comic book history about the character of Patsy "Trish" Walker, but the most important thing to note is in the Marvel comics Trish's superhero persona was Hellcat, a woman with athletic capabilities and psychic powers she got from, you guessed it, Hell. Like I said, it's a long story.
Anyway, Hellcat was actually a member of the Defenders as well as the Avengers, and while it seems doubtful Trish will get powers from Hell on Jessica Jones, it wouldn't be surprising if she did end up taking on the role as sidekick to Jessica. She pretty much already has anyway.
So there's a lot to look forward to in Season 2 of Jessica Jones and it'll be interesting to discover more about her past and what that means for her future. You can now watch the new episodes, which are currently streaming on Netflix.
Check out Romper's new video series, Romper's Doula Diaries:
Watch full episodes of Romper's Doula Diaries on Facebook Watch.