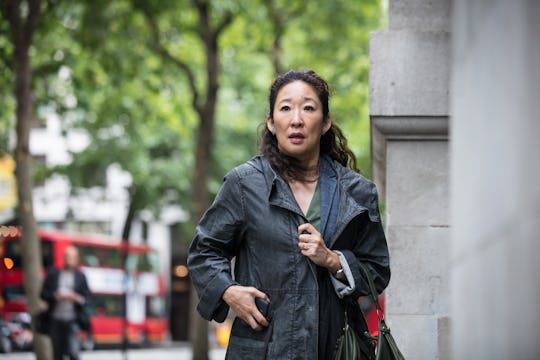 Sophie Mutevelian/BBC America
Fans Are Totally Obsessed With 'Killing Eve'
When it was announced that five time Emmy-nominee Sandra Oh was going to be starring in a new thriller series, people were immediately drawn in. The series, titled Killing Eve, stars Oh as Eve Polastri, a desk jockey at M15 who wants to be doing more, and becomes obsessed with tracking down serial killer, Villanelle (Jodie Comer). The BBC America series has quickly become a hit, which is why fans are now asking will there be a Killing Eve Season 2?
Thankfully, the series got an early season renewal and was picked up for Season 2 before the first season even premiered, and rightly so. Both fans and critics agree the new series is a hit that they definitely want to see continue on. In fact, unlike other freshman series whose ratings often fall off with each passing episode, Killing Eve has actual only improved in its ratings week to week. Thus, the series has proven it has serious staying power and as more and more people tune in and discuss the series, it continues to get more and more popular.
Killing Eve, which is based on a series of novellas by Luke Jennings, has been praised for the way it handles the typical British mystery drama, flipping classic tropes on their heads. Although there's a clear tension between Eve and Villanelle it's much more layered than just being the typical sexual tension that's seen on shows like Sherlock.
Oh puts it best when she talked about Eve with Time magazine. "Eve hits a plateau in her marriage, in her job," she said. "Then Villanelle comes along with her finesse, her style, her lack of inhibition — everything Eve doesn't have. Villanelle ignites something in Eve." Both Eve and Villanelle see something they desire in one another. Eve wants to break the rules like Villanelle, while Villanelle wants Eve's sense of purpose. They also, of course, want to kill each other, but also have a desire for one another. To put it simply, it's complicated.
In shows, and really every kind of pop culture, it's rare to see two different women with this kind of obsessive quality. Typically, that's usually only one character who's often portrayed to be either crazy or unhinged. And that's not to say Villanelle isn't either of those things, but her story isn't solely about her connection to Eve, just like it isn't solely about her killing people.
Similarly, the show's writer, Phoebe Waller-Bridge, aged up Eve from the young upstart she was in the novellas to the 40-something year old desk jockey that Eve is on the show, exploring a time in a woman's life that is, unfortunately, glossed over in television. For that reason, as well as a number of others, the show is being hailed as a feminist series that's empowering women.
This was obviously one of Waller-Bridge's goals, as she even revealed to the Time, that while researching female psychopaths for the show, she found her search oddly empowering. That comes across in the show especially in the way that Villanelle manipulates sexist expectations to get her kills. "We're familiar with this idea that men would kill someone and not have a care in the world," Waller-Bridge told Time. "But Villanelle's male victims, especially, have this complete meltdown at the idea that she could be a threat to them."
Besides the amazing tropes that are being flipped on the series, Killing Eve is just an interesting show to watch. The plot is filled with surprises that keep viewers guessing, and fans never really know what to expect in each episode. That's why they can't wait to see how the finale plays out. You can find out what the Killing Eve finale has in store when it airs on Sunday night at 8 p.m. EST.