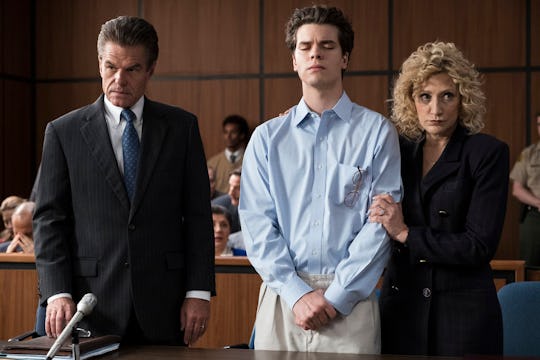 Justin Lubin/NBC
More 'Law & Order True Crime' Could Be Coming Your Way
True crime is a bit of a national obsession lately, making a Law & Order version of the genre all but inevitable. In its first season, Law & Order True Crime covered the Menendez brothers' murder of their parents in the late '80s and early '90s. But does the series end there or will there be a Law & Order: True Crime Season 2? Well if executive producer Dick Wolf (you know the one) gets his way, this new show will continue on for many more years to come.
To say that the true crime genre is having a moment is a little disingenuous. True crime has been a popular form of genre entertainment since at least the time that In Cold Blood was published. But documentaries like Making a Murderer and Serial launched the genre into mainstream consciousness, and elevated it to the level of prestige television. Law & Order has been on TV for the past 27 years (literally as long as I've been alive). The show is known for its "ripped from the headlines" plot points, but this is the first time the series has literally called itself "true crime." Of course, after the success of American Crime Story: The People Vs. OJ Simpson, there was no way this was not happening.
As it turns out, Wolf already seems to have some plans for future seasons of the show. At the moment, the Menendez murders is a timely story with its focus on affluence, consumerism, and alleged sexual abuse. For future iterations of the show, Wolf has a few dream cases on his wish list. As reported in Deadline, at the TCA, Wolf mentioned a few cases he would like to take on if the show continued for additional seasons. These include the story of Timothy McVeigh, otherwise known as the Oklahoma City bomber; David "Son of Sam" Berkowitz, and the "Night Stalker" Richie Ramirez. None of this has been announced as of yet, but if a second season is in the works, these are the kinds of stories you have to look forward to.
René Balcer, another Law & Order executive producer, spoke with Entertainment Weekly about plans for the True Crime offshoot. "There were a couple of things both [Wolf] and I would be excited about," he said, mentioning McVeigh and that act of domestic terrorism as particularly timely (the interview took place soon after the Nazi demonstrations in Charlottesville in which one woman was killed). "The Tim McVeigh case, the Oklahoma bomber case: In light of what happened this weekend in Charlottesville, it's very topical. This is going to be in discussions with the network, obviously. They are footing the bill for all of this."
As of right now, no second season of the show has been announced, though Law & Order has long had a lock on the crime procedural. That signature "dun dun" sound is recognized all over the world (and luckily has made it into the True Crime version of the show). That being said, in a television landscape so overwhelmed by murder and courtrooms, is one more addition to that world really necessary? Well of course its not necessary, but people will probably still watch. Heck — I will probably still watch. Reviews of the show have been largely positive, in no small part thanks to Edie Falco's performance as the Menendez brothers' hardworking lawyer, Leslie Abramson.
The real question that remains then is if viewers really want to see a Law & Order: True Crime Season 2. I guess we'll find out soon.
Check out Romper's new video series, Romper's Doula Diaries:
Watch full episodes of Romper's Doula Diaries on Facebook Watch.