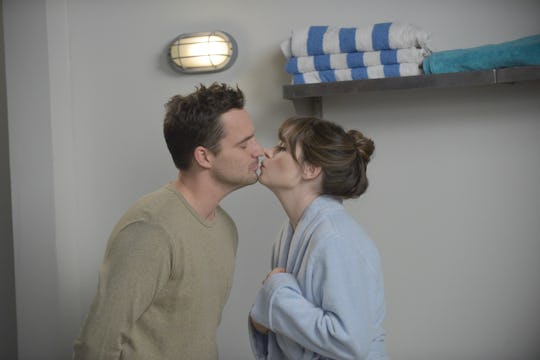 Ray Mickshaw/FOX
Could A 'New Girl' Spin-Off Ever Happen? Never Say Never
Whenever a popular series comes to an end, fans often hope for a spin-off, where they can continue to see their favorite characters, just in a different way. New Girl is no different and with the series finale about to air viewers are sure to find themselves wondering: will there be a New Girl spin-off? Anything is possible right now.
Currently there's been no official announcement about a New Girl spin-off being in the works, but that doesn't mean it won't happen. The show's executive producer and co-showrunner, Brett Baer, revealed to The Wrap some of his ideas for a potential spin-off ahead of the Season 7 premiere.
"For seven years, we've talked about Schmidt Happens, so of course there is that show," he said about a series centered around Schmidt (Max Greenfield). "Then there of course is the Winston one-hour long cop drama with Aly as his partner and wife. But you know, you play that real serious and you have actual, really gritty crimes."
Though he was probably joking, Baer did say that there was an endless list of possibilities for a New Girl spin-off, so it seems the door is definitely open for that possibility. I, personally, would be interested in a spin-off all about Ruth, Schmidt and Cece's daughter.
New Girl certainly wouldn't be the first sitcom to spawn a spin-off. Friends led to Joey, Cheers gave us Frasier, black-ish brought us grown-ish, and there are countless others. However, spin-offs aren't always the best and perhaps it would be better if the series finale was the final end for the characters of New Girl, especially if the finale is as good as it looks to be.
What made New Girl so great was, just like most sitcoms, it centered around a group of friends in their late 20s/early 30s trying to figure out how to be real adults. They struggled with dating, their careers, and shared the now iconic loft. However, as New Girl comes to a close, that has all changed. Almost all of the "loftmates" are now married (Nick and Jess are finally engaged), Schmidt and Cece have a daughter while Aly's currently pregnant with her and Winston's first kid, and they all have pretty stable careers now.
The only people still living in the loft are Nick and Jess, which based on the notice slipped under their door at the end of the first episode, that probably won't be the case by the end of the series finale either. Thus, everything and everyone has changed, as they should, and these characters that fans love aren't the same people they were when the show began. And while it's great that they've all grown up to have stable lives, it doesn't exactly bode well for a comedy series.
Unless the spin-off is going to be a family sitcom, it'll be hard to keep going with the same kind of humor fans have come to expect while all the characters settle into domesticity. Even in this final season, the comedy wasn't the same. There wasn't any real conflict because everyone's in happy, healthy relationships and the majority of the season was spent making sure all the characters end up with their happily ever afters before the show comes to an end.
Perhaps if it's done the right way, with a solid idea, a spin-off could work, but maybe it's best to leave a good thing alone. New Girl was a great show that has spawned a number of hilarious GIFs and memes, and fans are still trying to figure out how to play True American at home. It was great while it lasted, and though it'll be sad to see it go, it's time to say goodbye.