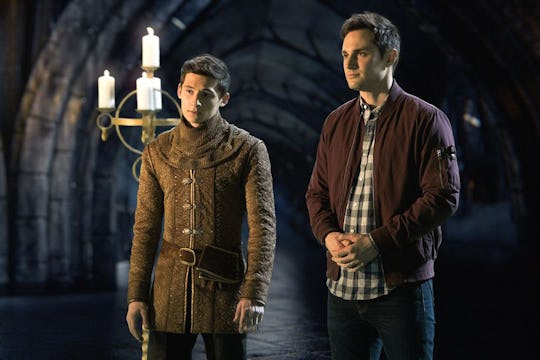 Jack Rowand/ABC
A 'Once Upon A Time' Spinoff Isn't Out Of The Question, Dearies
After seven seasons of bringing fairytales to life, Once Upon a Time is coming to a close this week. Though most fans, or Oncers, are coming to terms with the end of the show, others may find themselves hoping this isn't really goodbye for good. So will there be a Once Upon a Time spinoff at some point in the future? Never say never.
Fans probably will recall that ABC already launched a OUAT spinoff a few years back called Once Upon a Time in Wonderland. Unfortunately, that spinoff didn't last very long and was canceled after its first season. While there's certainly a number of other stories that could lead to another spinoff, OUAT co-creator Edward Kitsis told Deadline that he and his fellow creator, Adam Horowitz, "might take a break," after OUAT ends. He pointed out that since doing Lost they've done "300-plus hours of television over the last 14 years," so it's totally understandable that they'd want to take some time off before diving into a new project.
Still, the creators did reveal at a mid-season premiere screening that they're leaving the finale a little bit open so that if there is an opportunity to continue the show down the line, there's something to work with. Thus, even though fans shouldn't expect another OUAT spinoff anytime soon, that doesn't mean there won't ever be one. Even so, if the series finale really is the end of the road for these characters, at least it'll be a satisfying ending.
Going into Season 7, some fans were worried since a lot of the main characters, including Snow White (Ginnifer Goodwin), Prince Charming (Josh Dallas), Emma Swan (Jennifer Morrison), and Henry Mills (Jared Gilmore), had exited the series. Still, the show continued to do what it does best, which was combine the fairytales people love with a story all about family. As fans watched while adult Henry (Andrew J. West) had to rediscover his past and who he really was, many fell in love with the new OUAT world.
That being said, viewers are sure to be very excited to reunite with a number of familiar faces for the series finale. Gilmore already made his return earlier in the season when he acted as the final catalyst to spark adult Henry's memories about who he was and that he really is Lucy's father. Now it seems a number of fan favorites are returning for a final battle against Rumpelstiltskin. Along with the return of the entire Charming family, the show also confirmed on Twitter that Rumpel's long time love interest and wife, Belle, will also be in the finale as well. Based on the preview, fans can probably also expect to see Granny, Red Riding Hood, the dwarves, and probably a few other friendly faces as well.
So it seems the finale will be a big reunion, though probably not necessarily a happy one. The fight against Rumpelstiltskin may be the biggest fight these characters have yet to face, and although it'd be great if everyone got a happily ever after at the end of this, everyone may not make it out of this battle alive. In the trailer for the finale, many characters' lives are seen in peril, including Regina who's threatened by a young Henry, of all people. Could her own son really end up being her fatal doom? I certainly hope not, but you never know what could happen in the land of Storybrooke.
To see how Once Upon a Time comes to a close, make sure to tune in for the series finale on Friday, May 18 at 8 p.m. EST on ABC. You won't want miss it!