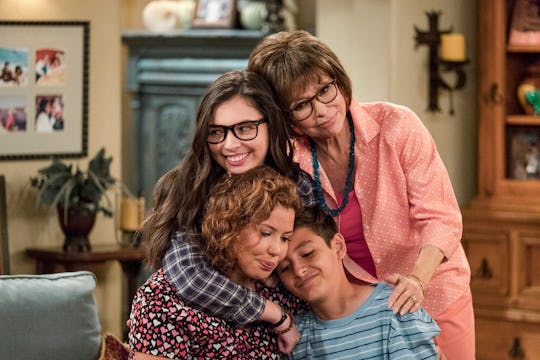 Adam Rose/Netflix
Netflix's 'One Day At A Time' Deserves A Season 3 Renewal
The reimagining of Norman Lear's classic family sitcom, One Day at a Time, has returned for a second season on Netflix. The remake centers around a Cuban-American family that is helmed by single mom and veteran Penelope Alvarez, who's raising her two kids, Elena and Alex, and living with her mother, Lydia while also dealing with her neighbor, Schneider. The show is hilarious and has a strong fan base so it's no surprise people are already wondering: will there be a One Day at a Time Season 3?
Unfortunately, there's been no news yet on whether or not the series will be renewed for another season, but if the show does as well as it did with its first season, it seems fair to guess it will continue. But the best way to make sure that happens is to continue watching the series, though do you really need an excuse to watch this show? It's amazing.
In the first season, the series got the ball rolling by dealing with a number of relevant issues like immigration, religion, depression, alcoholism, and the lack of care found for veterans when they return home. It also showed Elena, coming to terms with her sexuality and her family doing the same.
The season came to an end with Elena's quinceañera, a celebration of a young woman's 15th birthday similar to a Sweet 16, where unfortunately her father, Victor, couldn't accept Elena's sexuality and left before their father-daughter dance. Thankfully, the rest of Elena's family and her friends were there to support her anyway.
This new season will contain the same level of love and laughs, as well as trials for the Alvarez family. In the trailer, Penelope's son, Alex, gets into trouble for punching a boy who called him racial slurs, Penelope struggles to balance being a working mom and also going back to school, and Elena continues to fight for LGBTQ rights by starting a gay club at school. She's also forced to come to realization that not all of her passions will lead to a money-earning job.
Additionally, there's a new face coming onto the show. Now that Penelope's divorce is finalized she's trying to date again and brings home a man who Lydia hilariously refers to as a "stallion." It's unclear if Victor will be popping up in the second season, but if he does that'll certainly be an interesting reunion, especially for Elena. Will he ever be able to accept the fact that his daughter is gay or will this always be something that gets in the way of their relationship? Fans will just have to wait and see, but hopefully Victor will be able to do the right thing and be there for his daughter.
Of course, other fan favorites will be back for Season 2. Schneider is still around to bring comedic laughs as he does his best to help out the Alvarez family with various degrees of success. Penelope's boss, Dr. Leslie Berkowitz, is still in the picture, though it's unclear where his relationship with Lydia is now. The two had a bit of a romantic relationship, but it never really got off the ground. Regardless, Penelope wasn't a fan of it at all, and it's doubtful she'll ever be OK with her boss dating her mom.
Obviously, there's a lot to look forward to with this new season of One Day at a Time and thankfully fans no longer have to wait to see it. Season 2 is now streaming on Netflix so make sure to check it out. Hopefully a Season 3 renewal isn't too far away.
Check out Romper's new video series, Romper's Doula Diaries:
Watch full episodes of Romper's Doula Diaries on Facebook Watch.