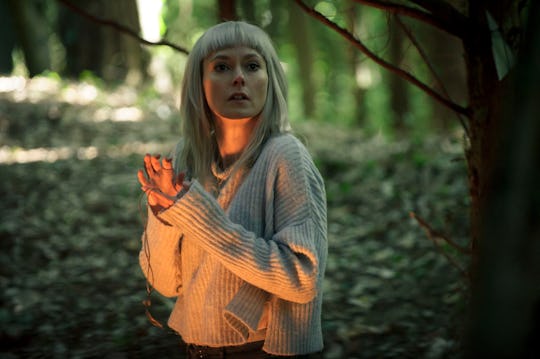 Alistair Heap/Netflix
A Season 2 Of 'Requiem' Will Be In The Works If The Show's Creators Have Any Say In The Matter
Netflix and BBC One's new thriller series Requiem already has people wondering if there will be a Requiem Season 2. If you're into scares and haunted mansions then you may be in luck. Though the series hasn't yet been officially picked up for a second season, the show's creator has said that he hopes to create a second installment of the bone-chilling series. If anyone wants my opinion (which I'm not sure they do): if one thing is good, then two things are better.
The show follows talented young cellist Matilda Grey when her life is thrown into turmoil following her mother's suicide. After the inexplicable death of her mother, Matilda finds herself journeying to a small town in northern Wales where she learns more about herself than she ever imagined possible. She also finds herself exploring the mystery of a young girl's disappearance in 1994, the year of Matilda's birth. The series is described as a psychological thriller with "subtle supernatural undertones," which means it sounds like the best thing ever. The trailer shows Matilda exploring a spooky house, lots of graveyards, terrifying child voices, and ghosts. Basically it has all the fixings for the perfect creepy television series (perhaps even creepier than American Horror Story).
The show's creator is Kris Mrksa, who wrote every episode except Episode 5. And it looks like at least as far as he is concerned, a second season is very much possible. In interviews, he's stated that he would love to do a second installment because he originally conceptualized the story in two parts. "I always imagined this as a story in two parts, so if the planets align and it's possible for us to do a second series, I would very much like to," BBC reports Mrksa saying. But don't count your chickens before they hatch. He added the caveat, "But there are so many things that have to fall into place first, I'd rather not even think about it." If there was ever a show that was susceptible to being jinxed, I'd say this was the one. And that's not something I mess around with.
The series has already premiered on BBC One in the U.K., prior to its Netflix debut on March 23. I haven't seen the series yet (I plan to power through all nine episodes over this weekend) so I can't say I know where the show ended or where the story might go after this. Unlike so many things on television these days, this series has an original script and was not adapted from a book or book series. So that means I don't even have any source material to scour through when trying to figure out what happens next. Unfortunately it looks like we will all have to wait and see the next series the old-fashioned way.
For those who have already found a way to watch the series (perhaps in the U.K.), then you may already have an idea of where things could go from here and if the story warrants another season. Considering how so many shows get picked up for longer than originally planned (please see Big Little Lies), I wouldn't rule Requiem out just yet. If Mrksa already planned on having the series exist in two parts, then the odds could be in its favor. Either way, I'm looking forward to watching Season 1, even if it will make me unable to sleep for days on end. Something tells me it'll be worth it.
Check out Romper's new video series, Romper's Doula Diaries:
Watch full episodes of Romper's Doula Diaries on Facebook Watch.