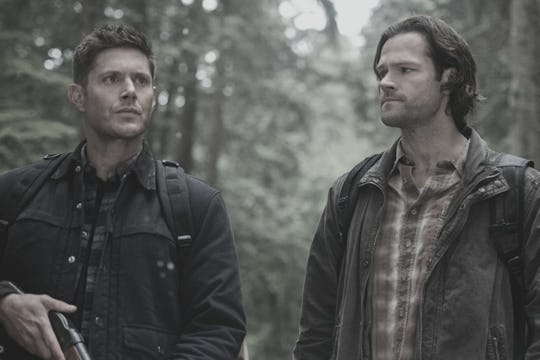 Dean Buscher/The CW
There *Could* Be More Seasons Of 'Supernatural' Coming — But There's A Catch
Sure, the new fall TV season has only just begun but there's no shame in looking ahead. This is especially true in light of Thursday's Season 14 premiere of Supernatural on the CW. With so many successful, entertaining, and downright original episodes behind them, will there be a season 15 of Supernatural or is it too early to know? Turns out the decision might lie with the two stars of the show.
One of the Winchester brothers himself, Jensen Ackles (who plays Dean Winchester) told Digital Spy he'd happily do up to 30 seasons of the long-running show if there were fewer episodes per season. Fans of the long-lived bromance — the longest running show in CW history — would be all for 30 seasons of Winchester hysteria. Ackles clarified saying "So there was that conversation of, 'How short can we go and still make the story sustainable, but also monetarily have it make sense for the studio?' and 20 seemed to be the magic number," he said. "That still gives them enough content to cover their bases."
The conversation mentioned there were initial concerns over the upcoming season's shorter 20-episode run (less than their average of 22-23). Some speculated shorter seasons might mean sacrificing quality story, but that's not the case. If anything, the episodes will be punchier, straying away from the broad strokes that can be hard to remember or keep up with. For the actors involved in the grueling shoots, it all comes down to time, according to Padalecki. "And we're just giving this a shot. 23's a bit difficult, with three young kids in a foreign country – I know it's Canada [where Supernatural shoots], but it's still time zones, and travel, and my kids are in school." With his family in Texas, longer seasons — and all the conventions they attend — a regular season means more time away from them. "If it gets to the point where the network says they need at least 15, or 18, or we can't do less than 20, then that's a question we'll figure out at the end of this year," he added.
It sounds like the end result (of how many episodes there will be in total, per season) is ultimately up to the studio. As for the possibility of a Season 15, CW President, Mark Pedowitz, made it clear the show will go on as long as ratings are gold and the two stars remain all in. This is where the loss of 2-3 (or more) episodes per season matters. Allowing Ackles and Padalecki to spend more time with their families means they'll be happier to return to work. With the 300th episode scheduled to air mid-Season 14, you'd think that might be a good note to end on. However, co-showrunner Andrew Dabb told TV Line just before the Supernatural PaleyFest panel the 300th episode likely won't be the end. "I think we're going to keep going. I think there are more stories to tell. Three hundred is an awesome, awesome benchmark — very, very few shows get there; it's like us and Gunsmoke — but I don't think that's our ending point."
Padalecki weighed in on the 300th episode saying "I am consistently amazed and impressed by our writers and the direction. I think maybe when I said 300 [episodes], I just didn't know if we'd keep the quality up, but the quality is higher than it's ever been." Even with that stamp of approval he concluded saying "as they're willing to keep picking us up, then count me in."
With all of that said, no need to get too far ahead into your TV plans. Season 13 of Supernatural is live on Netflix and 14 begins Thursday so worries over number 15 are slightly premature. For now, prepare to watch a possessed Dean Winchester in a newsboy cap because it'll probably be the best thing you'll see all week.