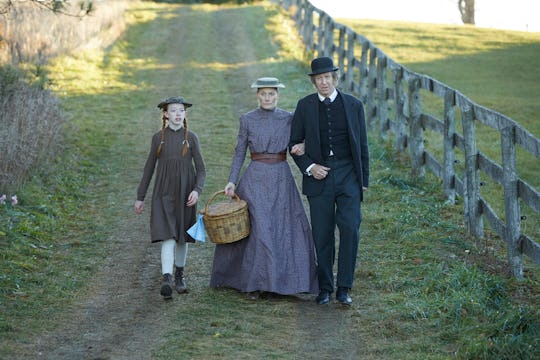 Ken Woroner/Netflix
Fans Already Want More Of Netflix's 'Anne With An E'
Lucy Maud Montgomery's beloved series Anne of Green Gables got a CBC reboot this year helmed by Breaking Bad alum Moira Walley-Beckett, and the reportedly "super dark, feminist" reimagining is generating a lot of buzz. The first seven-episode season has already aired in Canada, but it's coming to Netflix for the rest of us later this month. Walley-Beckett, who decided to forego having a writers room in lieu of penning the whole first season herself, hopes for five seasons in total to flesh out the story. So will there be a Season 2 of Anne with an E?
Nothing has been confirmed by CBC yet, although if the series performs outstandingly well on Netflix, it seems like a second season is virtually guaranteed. The reimagining takes Walley-Beckett's gritty cable drama expertise and applies it to a story which usually relies on a picturesque setting in Prince Edward Island and period telling of late-1890s farm life to create a compelling on-screen adaptation. This time, Walley-Beckett has decided to focus on the difficulties of Anne's life as an orphan who was initially rejected by her adoptive family because she wasn't a boy. It takes a more explicit look at the trauma of neglect, abandonment, bullying, and abuse, which is subtly hinted at in the books, although they generally focus on Anne's lovable resilience.
Walley-Beckett believes it's the perfect time to tell Anne's story, telling the Canadian Press:
In this day and age, themes of identity, prejudice, bullying, being an outsider, searching for a way to be accepted and how to belong are entirely topical and super relevant, and those are themes that are built into the story of Anne...Anne was an accidental feminist, and I am not an accidental feminist, and I really wanted to tell this story now.
She also reframes the beautiful setting to depict how grueling work on a farm in at the turn of the twentieth century must have been. "This is a very grounded, real version of the story. Life in Prince Edward Island in the late 1800s was a hard, gritty, scrappy life. It was messy, it was covered in red mud," she told CBC. "The weather, the seasons, it's all part of our story. It's not doilies and teacups, it's life."
Other updates include a deeper look at how and why middle-aged siblings Marilla and Matthew Cuthbert ended up single and living on a farm together — the subject of much town gossip — and another older female character depicted in a Boston marriage. You can catch the latest Anne of Green Gables adaptation on Netflix beginning May 12.