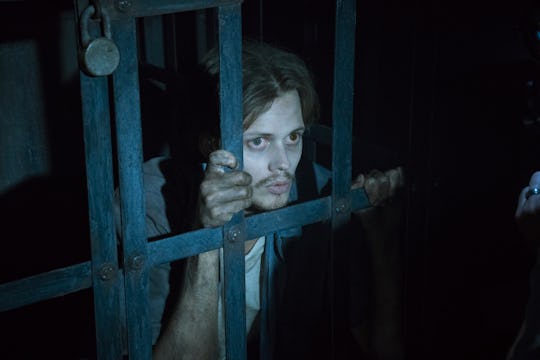 Patrick Harbron/Hulu
'Castle Rock' Fans Rejoice: The Creep Show's Future Has Been Confirmed
Castle Rock has kept fans guessing all season long, but this week, they finally got a chance to dive into the supernatural forces creating chaos in the town. There's only one episode left this season, and while fans are hoping it brings some closure to the show's mysterious storylines, some are anxiously wondering: will there be a Season 2 of Castle Rock? If you're a fan of the show, the good news is that you can expect to revisit this sinister Maine town again sometime next year.
Luckily, Hulu announced the renewal of Castle Rock in mid-August, because according to The Hollywood Reporter, the show has been quite successful for the streamer — bringing in high viewership for the series' July 25 premiere and its first few episodes. There are still no details as to how many episodes a second season would get, and when it would be released, but if it gets a premiere date similar to Season 1, Castle Rock Season 2 should debut in July or August of 2019.
While much about the details of the production and story are still unknown, the series' creators, Dustin Thomason and Sam Shaw, discussed the direction the subsequent season would take. In an interview with The Hollywood Reporter, Thomason revealed that a second season may tell a completely different story than the first, and may even have an entirely different cast of characters. "In terms of the anthology, each season is going to be its own self-contained story: beginning, middle and end," said Thomason. "But I think that just as the books do, we want to surprise viewers with the ways in which the stories intersect. Just as the places the characters pop up in very unexpected ways throughout the books, that's the kind of anthology that we would like to tell."
When talking to Collider, the showrunners explained how Stephen King's fictional universe inspired them to write the show, and how his extensive works lend themselves to a plethora of storylines. "We have always been huge, huge, huge fans and acolytes of Shawshank Redemption and The Green Mile," said Shaw. "It felt like, if we paced ourselves and just tried to tell one worthy installment in the prison and crime and punishment sub-category of Stephen King stories, that would be a lofty enough task, in and of itself. The hope is that we can come back and tell a monster story or a different kind of story, in a future season."
In the same Collider interview, Thomason revealed that the creators have outlined "a map" on where the series is going, keeping the town of Castle Rock as it's center. "It is the place that we and a lot of the constant readers view as the center of the Stephen King universe, outside of The Tower," he told the outlet. "That's where we wanted to begin, but we feel there's a really great opportunity to expand out from there."
With a different storyline and characters for Season 2, it's hard to tell if your favorite characters are going to come back, and no official cast announcements have been made yet. But because the series is inspired by Stephen King — whose books are full of stories of resurrection and overlapping realities — anything is possible. As a fan of Castle Rock myself, I do hope to see Alan Pangborn (Scott Glenn) and Ruth Deaver (Sissy Spacek) return, and am also hoping that Jackie Torrance's (Jane Levy) storyline is expanded on more.
It can get pretty frustrating when you don't know the fate of your favorite show, but luckily for fans of Castle Rock, Hulu took the guessing game out of the equation. The wait for Season 2 might seem long, but you can always rewatch the first season to find those hidden Easter eggs you missed the first time around.