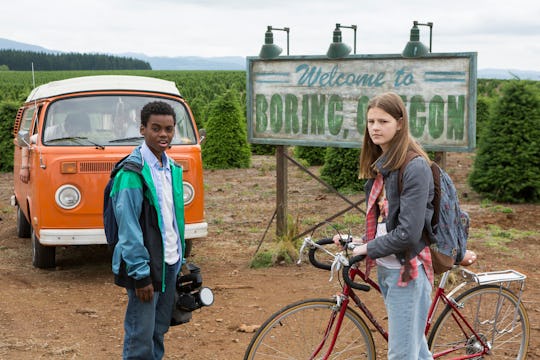 Scott Patrick Green/Netflix
Netflix's New Series 'Everything Sucks!' Offers Up The Perfect Dose Of '90s Nostalgia
Just like Stranger Things is all about '80s nostalgia, Netflix's new series, Everything Sucks! is for kids who grew up in the '90s. The new series is another coming of age story that takes place in a small town in Oregon back in 1996. The show is giving many people Freaks and Geeks vibes and it's no surprise that some may already be asking: will there be a Season 2 of Everything Sucks!?
Unfortunately, there's been no word yet on whether or not the '90s-inspired show will return for a second installment. However, the first season was just released this week so it's not surprising that Netflix is waiting a bit before deciding whether or not the show should continue. Hopefully there will be enough viewers and good buzz to warrant another season, as this show is comedic gold.
The series closely follows the collision course of the AV and drama clubs at a high school in this small town. The main focal point of said collision is Kate Messner (Peyton Kennedy) and Luke O'Neil (Jahi Di'Allo Winston). Luke likes Kate, but Kate's the daughter of the principal, so Luke is advised from others to stay away from her; naturally, he doesn't listen.
Along with the budding romance between Kate and Luke, is the budding relationship between their parents. Both Kate's dad and Luke's mom are single and end up really hitting it off. No doubt these two love stories will bump heads at some point, but truthfully it may not end up being an issue since, based on the trailer, it doesn't look like Kate and Luke's romance was built to last.
As Luke's friend warns him, high school relationships tend to only last 26 days. Plus, Kate seems to be exploring her sexuality in the trailer so it's possible Luke won't end up being her type anyway.
Romantic conflicts aside, the series is clearly a love letter to the '90s. From the music to the fashion choices and hairdos, Everything Sucks! will certainly take you back in time. Especially with the use of landlines and dial up just to get on the internet. (Yeah, remember those days?) If that familiar dial up still gives you anxiety, beware! You'll hear it at the end of the trailer and of course in the show itself.
While Everything Sucks! doesn't have a Demogorgon or the Upside Down, it still has the chance of becoming just as beloved as Stranger Things. The comedy level is definitely there, and just like with Stranger Things, Everything Sucks! has put together a great cast of new, young talent who will own the show.
Similar to the Stranger Things kids, none of the Everything Sucks! kids were actually alive in the '90s so they had to immerse themselves in the culture to prepare for their roles. They revealed to Clevver.com that they watched Freaks and Geeks, 10 Things I Hate About You, and The Breakfast Club together as prep work. (Though The Breakfast Club came out in the '80s, so maybe that one was just for fun?) They also played around with disposable cameras to become familiar with those as well.
It appears their hard work paid off, because Everything Sucks! definitely pulls you back into the era. That being said, you definitely don't have to have lived during the '90s to appreciate the new series. At it's core, it's still a fun, coming of age story, that anyone of any age could relate to and find hilarious. So definitely check it out if you haven't already.
Everything Sucks! is now streaming on Netflix.
Check out Romper's new video series, Romper's Doula Diaries:
Watch full episodes of Romper's Doula Diaries on Facebook Watch.