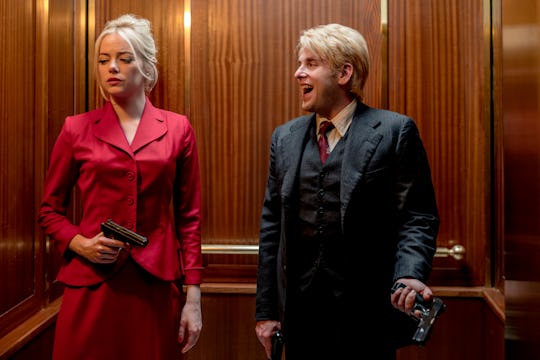 Michele K. Short / Netflix
Fans Are Hoping For A Season 2 Of 'Maniac'
In Netflix's new series, Maniac, Emma Stone and Jonah Hill are reunited on screen for the first time since Superbad. On the show, the pair play two patients in an experimental drug trial run by a doctor (Justin Theroux) who promises he can cure their mental health disorders with no side-effects. The first season is a short ten episodes, and fans are already looking for more. So will there be a Season 2 of Maniac?
As of now, Netflix hasn't mentioned any plans for a second season of Maniac, and neither have the show's cast and crew. Stone has film projects lined up for the next few years and Hill has his own separate projects in the works. Neither of the actors has indicated any commitments to a future season of Maniac, and the show's writer and director, Cary Fukunaga, has not revealed any future plans for the series either.
Fukunaga is famous as the writer and producer of the critically-beloved first season of HBO's True Detective (he left the project before Season 2). Early reviews of Maniac have been pretty much just as glowing as they were for True Detective, but that doesn't mean there will be a second edition of the show. Fukunaga is already busy with plenty of additional projects scheduled for next year, including a sequel to The Alienist called The Angel of Darkness and a biography of New York Philharmonic conductor Leonard Bernstein called The American.
Filming a whole season of TV takes a lot of time, and with so many film projects lined up for the show's cast and creator, I'd be surprised if everyone had time for Season 2. Stone has three upcoming films, including Zombieland 2, in which she will be reprising her role as Wichita alongside Woody Harrelson, Jesse Eisenberg, and Abigail Breslin. She is also set to play the Disney villain Cruella De Vil in the live-action 101 Dalmatians film and will reprise her voiceover role as Eep in The Croods 2.
Hill's schedule for the next year is also full. He is currently filming How To Train Your Dragon: The Hidden World, reprising his role as Snotlout Jorgensen. He is also is scheduled to begin filming The Ballad of Richard Jewell next year, in which he will play Richard Jewell, the security guard who saved thousands of lives during the Centennial Olympic Park bombing at the 1996 Summer Olympics in Atlanta.
All that said, if the series gets high enough ratings, it's possible that the executives behind the project push for a future sequel, but it will require the production, budget, and schedule to fall in place perfectly.
But despite there being no indication of a second season, at least fans can appreciate Hill and Stone's on-screen chemistry once again — this is their first time on screen together since Superbad. As the drug trials push their characters to explore the depths of their psyches, the two find themselves in virtual worlds of their own imaginations, until eventually, they can't tell what's real and what's not anymore. After watching the trailer, I can't wait to see the mind-bending journey this show takes, and whether it gets a second season or not, I'm betting the psychedelic trip will be well worth it.
Maniac premieres on Friday, Sept. 21 on Netflix.