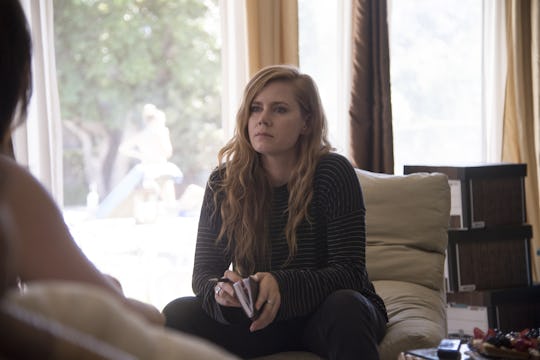 Anne Marie Fox/HBO
Showrunners Weigh In On Whether There Will Be A Season 2 Of 'Sharp Objects'
With the Sharp Objects finale airing on Sunday, fans have one question on their minds: will there be a Season 2 of Sharp Objects? Well, you probably shouldn't be holding your breath. First off, Sharp Objects is based off the novel of the same name by Gillian Flynn. It's a standalone novel, so the story ends where it ends — and the finale will follow the events of the books. I know what you're probably thinking at this point: well, Big Little Lies has a Season 2 and so does Handmaid's Tale and they were based off of standalone novels, too. But it doesn't look like that is going to be the case here.
HBO president of programming, Casey Bloys, acknowledged that while Big Little Lies did defy expectations when it was renewed for another season (it was originally billed as a limited series), Sharp Objects is a completely different story. In an interview with Deadline, Bloys confirmed Sharp Objects would not be renewed. "Unlike Big Little Lies where all of the stars wanted to come back, Sharp Objects, it's a very dark character, very dark material. Amy doesn't want to live in this character again and I can't blame her, it's a lot to take on for an actress," Bloys told Deadline.
Not only did the HBO president of programming nix the idea, but so did Sharp Objects showrunner Marti Noxon. "We're not talking about a Season 2," Noxon said at the Television Critics Association's summer press tour in July. "This is it, so bask in it while you can." In an interview with The Hollywood Reporter, Amy Adams described the dark state she was in while filming the show. She said she left the set feeling like she needed to cry, waking up in the middle of the night, and feeling residual pain as if it were Camille's. I don't know about you, but that's not a place I'd readily return to, so I understand why Adams and the crew wouldn't want to return for another season.
The novel's author, Gillian Flynn, however, doesn't feel the same way about Camille and the Sharp Objects universe. In the same interview with The Hollywood Reporter, Flynn said she is always down to return to the story and continue writing it. "My characters always go on in my imagination. They have full working lives in there, and I keep in touch with all of them." She also commented on Camille's "current" state: "Camille's doing great. But I would never say no [to another season]. I know exactly what happens to them."
This isn't the first work of Flynn's to make it to the screen. Another one of Flynn's novels, Gone Girl, was made into a feature film. But Flynn believed the limited series format suited Sharp Objects better. She said at the TCAs, "I felt this one in particular did feel like it needed more than two hours."
"It did need that length, again, just to make sure that Camille and her story and that character study didn't get lost within the mystery itself," Flynn continued. "As you saw, we don't even get to what Camille's particular issue is … until the end of the first episode." So, while a Sharp Objects Season 2 is really unlikely, fans can be grateful that the novel adaptation was not merely a two-hour movie. After watching all the episodes (besides the finale, of course), I can't imagine how it would have been condensed into such a short timeframe and still match how good the HBO series is. So, fans should enjoy the finale and "bask it all in," as Noxon said. And wait for Big Little Lies Season 2 instead.