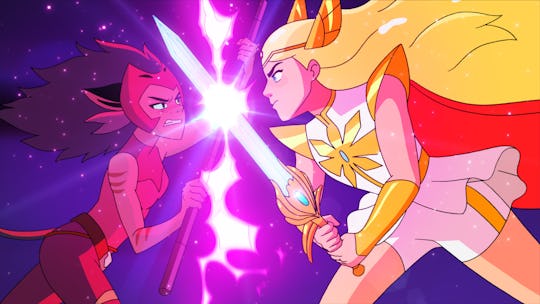 Netflix
Things Are Looking Good For Season 2 Of "She-Ra & The Princesses of Power'
I don't know about you, but I'm a sucker for anything with a little (OK, a lot) of girl power. Growing up, we had The Powerpuff Girls, Kim Possible, and... well, not much else when it comes to children's programming with a female heroine at the center. Now, kids have a lot more to choose from, like Netflix's newest animated series. In fact, fans are already asking if there will be a Season 2 of She-Ra and the Princesses Of Power?
If you haven't checked it out yet, here's what you're in for: Living on the planet Etheria, Adora is a soldier fighting for the evil Horde alongside her best friend, Catra. Adora suddenly learns that she's been on the wrong side all along when she is chosen by a magic sword and transformed into She-Ra, the Princess of Power. The heroine chooses to fight alongside her new friends, the Princess Alliance, to defeat the genocidal ruler Hordak.
This might sound familiar, though most of us were a little too young the first time She-Ra graced our TV screens. She-Ra: Princess of Power was a 1985 spin-off of He-Man and the Masters of the Universe. In this iteration, Adora had a twin brother, Adam, who was He-Man. The series only lasted two seasons, ending in 1986. But things are different this time around. For one thing, She-Ra isn't sexualized to the same degree. This caused a pretty big outcry from the internet when, back in July, a first look at the new She-Ra was shared by creator Noelle Stevenson. Grown-up fan boys, apparently fighting to show that they actually did watch a series featuring a female lead character, were outraged that She-Ra no longer represented "the ideal woman" (whatever that means).
Basically, they weren't happy that she was a teenage girl (which she's supposed to be) and didn't have long legs and a sizable chest (which most teens don't). Co-creator of the original She-Ra J. Michael Staczynski shut down their arguments swiftly, because change can be a good thing, and the two different interpretations can both continue to exist.
Of course, a more feminist and diverse approach is a good thing to see in 2018. She-Ra is accompanied by a wide range of young women (and one man), including several women of color. And though we haven't yet seen on-screen confirmation of this, it looks like there will be at least one LGBT character on She-Ra, should the show continue.
So will fans get to see more of She-Ra and her diverse group of friends? It seems pretty likely that the answer is "yes." The first season employs a "princess of the week" format, slowly introducing the characters and their abilities. All of this framework being laid suggests that the writers' intention is to build upon this with more in-depth storytelling in a future season. If this has peaked your interest, go check out the 13-episode first season, and give Netflix a reason to green light Season 2. God knows we could use more empowering female characters.