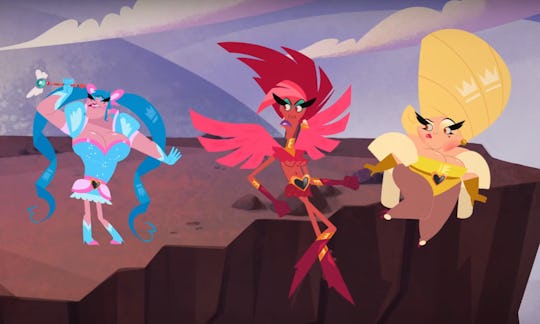 Netflix
Fans Already Want To Know When 'Super Drags' Season 2 Is Coming
When Netflix picked up a Brazilian animated comedy about superhero drag queens and gave it an all-star voiceover cast for its English dub, they probably knew they were working with a hit. But given the show's relatively low profile in the United States, Super Drags dropped on Nov. 9 without much fanfare. Viewers spent the weekend weighing in on Twitter and the results are in: people are definitely excited about it! And since the first season only had five episodes, everybody wants to know: will there be a Season 2 of Super Drags?
Officially speaking, it's too early to say. Netflix hasn't announced whether they plan to carry the series into a second season, and considering the very busy schedules of the RuPaul's Drag Race alums who lend their beloved voices to the English version, getting the gang back together for a second season might be tough. On the other hand, the show comes from a studio in Brazil, so if the Brazilian version of Super Drags continues, Netflix will have more episodes at their disposal should they want them. Plenty of early fans on Twitter are already demanding a second season, and, if you haven't tuned in yet, one look at the trailer proves why.
Super Drags is a Powerpuff Girls-esque super hero cartoon about three gay friends who work boring retail jobs by day and turn into glamorous drag queens named Lemon Chiffon, Safira Cian, and Crimson Scarlet at night. Each of them have special powers and they're locked in a bitter fight against the villainous drag queen Lady Eliza, who commits hate-crimes against the LGBTQ+ community by stealing all the world's glitter. Thankfully, the Super Drags have the help of Champagne, the Charlie to their Angels, to guide them in defeating her. Eliza is voiced by Drag Race Season 4 alum Willam, while our three heroes are voiced by Ginger Minj, Modern Family's Rod Keller, and Shangela.
Even though the animation style is cute and femme-empowering, Netflix goes out of its way to warn viewers that it's an adult show in the trailer. This is not your neighborhood library's drag queen story hour. Super Drags is packed with raunchy humor and the streaming service wants to make that crystal clear before you unwittingly plop your kids down in front of it.
One fun easter egg fans that fans already picked up on is a shoutout to Lady Gaga's A Star Is Born. Willam and Shangela both appear in the film, and so a nod to it obviously worked its way into the English version of Super Drags. In an interview with Billboard, Willam raved about the experience, saying:
Gaga was on set the whole time. She wasn't in her trailer, she was just hanging out with me and Shangie. At one point someone was rubbing my shoulders and I turned around and it's her and I was like, 'Girl, watch my wig'... She's kind, giving with her time. She treats everybody the same. She knows everybody's name. She could be that celebrity who's like, 'Don't look at me. And I'll be in my dressing room.'
Would a Gaga cameo in Super Drags Season 2 be too much to hope for?