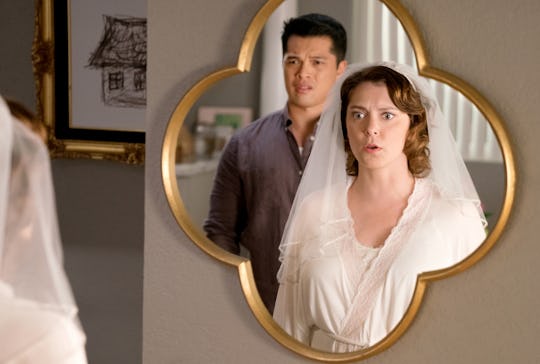 Michael Desmond/The CW
Is 'Crazy Ex-Girlfriend' Coming Back For Season 3?
As hard as it is to believe, the Season 2 finale of Crazy Ex-Girlfriend is right around the corner, which means all of our future Fridays are going to be very lacking in the hilarity department. But while before we sit down and try to figure out how to possibly fill the West Covina void in our hearts, there's a very important question that's worth asking first: will there be a Season 3 of Crazy Ex-Girlfriend or has our time with Rebecca Bunch & Co. come to an end? Thankfully, you won't have to waste any time worry about it, but I'm pleased to say that yes, a Season 3 is most definitely happening.
Back in January, The CW went ahead and renewed a bunch of its widely popular shows, including the likes of Arrow, The Flash, DC's Legends of Tomorrow, Jane the Virgin, and — you guessed it — Crazy Ex-Girlfriend, thus securing a Season 3 pick-up. It has yet to be determined just how many episodes will be granted for the new season, but I'd expect the number to hit around the 13 mark order like it did for Season 2. But either way, it's just thrilling to know that more Rebecca Bunch will be coming our way!
(She may not look it, but Rebecca is super excited about it too.)
Yes, it seems as though everything is working out as Rachel Bloom hoped it would. In April of 2016, the actress revealed in an interview with The Hollywood Reporter, that she has big plans for the show as well as an estimated time frame for how long Crazy Ex-Girlfriend will be on the air. "I think the ideal number is around four," Bloom remarked, while adding:
That could change. We're a show about a very specific journey in a person's life. And it's not really a sitcom meant to spit out copies of itself. Very early on, we called it a 50-hour movie. I think we're beyond that now. There's always going to be plot movement, so there's only so far I think you can go with that. It could be five, but I think around four would be ideal for us creatively.
Honestly, four seasons doesn't sound like nearly enough, in my opinion, since I could seriously watch this show all day, every day. So I'm glad that Bloom seemed open to the idea of expanding her original game plan. But regardless, I'm just glad that the future of Crazy Ex-Girlfriend continues to look bright.