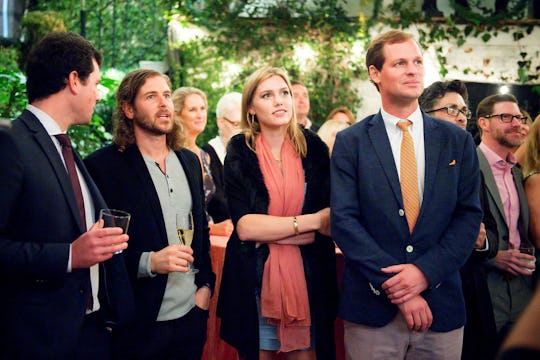 Courtesy of Marcus Ingram/Bravo
The Fate Of 'Southern Charm Savannah' Isn't Clear
The second season of Bravo's Southern Charm Savannah is just about over, but it's never too soon to wonder about a renewal. Fans may already be wondering: will there be a Season 3 of Southern Charm Savannah? The answer isn't totally clear just yet. Bravo's Daily Dish noted in April that Southern Charm Savannah would return for a second season, but now that the finale is wrapping up, fans want to know about the third installment.
Romper contacted a representative at Bravo seeking comment on whether fans should expect a third season of Southern Charm Savannah, but did not immediately receive a response. So, is the show getting another season or not? It doesn't actually seem like one has been planned yet, according to Premiere Date. But anything could still happen. Premiere Date doesn't list any episode past the finale episode of this season of Southern Charm Savannah, "Down To The River To Pray." And Bravo's Southern Charm Savannah page still has no information about a third season.
But that doesn't necessarily mean there won't be a third season of the show, which is a spinoff of the fan-favorite Southern Charm. If the second season finishes out strong, and the series is still popular, there's always a chance it could return for another season or maybe more.
Southern Charm Savannah premiered in May of 2017, according to TV Guide and the first episode of the current season aired on July 16. So if the schedule continues in the same basic pattern, fans can expect Season 3 of the show to air in the spring or summer of 2019. If it's renewed, that is.
Interestingly enough, there was never a reunion for the first season of Southern Charm Savannah, according to The State, a daily newspaper published in Columbia, South Carolina. Perhaps the reason for this is that the network didn't feel that the show's ratings were strong enough to warrant a reunion show, but it still earned a second season. As for whether there will be a reunion for this season or not — that still remains up in the air.
Unfortunately, web searches for anything on a third season of Southern Charm Savannah don't reveal much of anything about the show's fate. All that anyone seems to know is that the show hasn't been either renewed or cancelled yet.
The first Southern Charm follows seven socialites in Charleston, South Carolina, and after five seasons has gained a devoted fan following. Perhaps this could bode well for Southern Charm Savannah, which is actually one of two spinoffs of the original Bravo reality series; the other is Southern Charm New Orleans.
Southern Charm Savannah follows the love lives, professional endeavors, and personal relationships of six lifelong friends: Catherine Cooper, Ashley Borders, Lyle Mackenzie, Daniel Eichholz, Hannah Pearson, and Louis Oswald, according to Bravo's The Daily Dish.
Recently, the show has featured everything from a Dirty 30 birthday celebration in Turks and Caicos, to romantic weekends, to rising tensions between some of the friends. It's been an interesting second season for sure, and fans might not be ready to say goodbye to the Savannah crowd just yet. And if Bravo renews Southern Charm Savannah for another season, they won't have to. Fingers crossed.