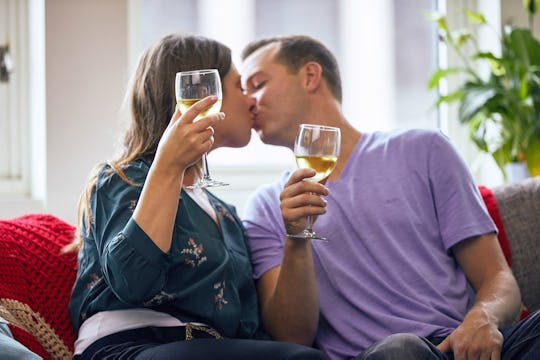 Karolina Wojtasik/Lifetime
'Married At First Sight' Season 8 Could Be Casting Already
Married at First Sight airs Tuesdays on Lifetime at 9 p.m. ET, but soon its audience will have a gap in their TV-watching schedule. The seventh season of the show has wound down to a close, minus a catch-up special or two. All viewers can do now is count down the days until the new season. But wait — will there be a Season 8 of Married at First Sight?
So far Lifetime hasn't officially renewed the show for another season, but there's no reason to despair. The network ordered two spinoff shows, so they seem to be dedicated to the Married at First Sight franchise. One show, Married at First Sight: Honeymoon Island, takes 16 contestants and sends them off for a romantic vacation in St. Lucia. As they pair off, the cast will have to decide if they want to end the trip married or single. The other spinoff, Married at First Sight: Happily Ever After, follows three couples from the original show as they continue to navigate their relationships.
The show appears to be popular enough to warrant spinoffs (not to mention that it was renewed up until Season 7 in the first place), so fans should remain hopeful for Season 8 even though it hasn't been announced quite yet.
It looks like they have begun casting for Season 8 as well, according to their casting Facebook account. A flyer on the page states that they're looking to focus on creating couples in Charlotte, North Carolina. It continues, "Single and brave? Appear between 26 and 40? Live in the Charlotte area? Exhausted all dating options? Ready to find the love of your life? We want to hear from you!" It seems like they're interested in people who haven't been entirely lucky in love, but are up for a serious commitment — like marrying someone within a few minutes of meeting them.
The casting application has 61 questions on it to make it a little easier for the people behind the scenes to pair off their applicants. There are normal questions about education and occupation, but also more in-depth inquiries after dealbreakers, whether the applicant wants kids, their past relationships, and their childhood. Those that make it all the way to the end of the process will be placed into three couples that will get hitched and then see if they actually work together over the eight weeks of filming.
The show is coming off a fairly successful seventh season in which all three couples chose to stay together, though one ended up divorcing after the finale. However, normally the show is hit or miss; only six of the show's 21 couples have decided to stay together. Some of those couples have started families, including Season 7's Danielle Bergman and Bobby Dodd. The chance for a lasting relationship might be slim, but there's still a possibility that someone could meet their potential partner on the show.
There's a good chance Married at First Sight will be renewed for Season 8, so audiences can enjoy the spinoffs until the official announcement comes.