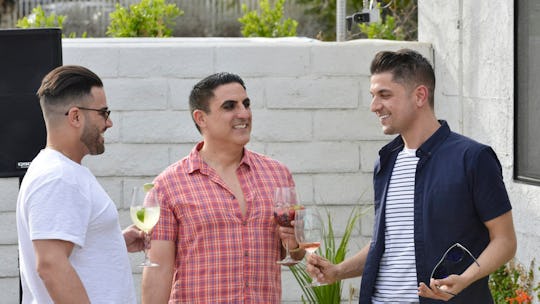 Jerod Harris/Bravo
What You Should Know About 'Shahs Of Sunset' Season 8
Bravo's Shahs of Sunset in all its melodramatic opulence has reigned for seven seasons now. The OG crew — GG, MJ, Mike, and Reza — sure have been through a lot in those seven seasons. Now there are weddings, babies, and the addition of newbie cast-members including Destiney Rose and Nema Vand. It's hard to believe Season 7 is already coming to a close, so fans are probably wondering: Will there be Season 8 of Shahs of Sunset?
Don't get excited too quickly — Bravo hasn't yet announced the renewal Shahs of Sunset for Season 8. There will, of course, be a reunion in which all the cast-members can rehash the drama from the season before. But beyond November 15, it's anyone's guess.
As far as the drama goes — there has been plenty all season. Despite being no longer a full-time cast member, Asa Soltan still made plenty of waves among the cast. Asa just had her first child, Soltan Jackson, and in case you missed it, had a falling out with the others for keeping her in vitro fertilization secret. Meanwhile MJ (Mercedes Javid) dealt with the same, but was open with her struggles on camera. Mike weighed in with Andy Cohen on an October episode of Watch What Happens Live and, well, he wasn't Team Asa.
"She is the biggest perpetrator I've ever met," Mike said. "If my best friend is going through infertility, and you're not going to help me through this journey that I'm going through and pretend that your life is perfect, making me feel worse — being MJ — that's not cool and I can't forgive that. MJ is the sweetest person, she doesn't have much of a family, so she looks at us, her friends, as family members and if you're going to lie to her and keep it a secret, you don't deserve any love from me, that's not cool."
Only recently did MJ reveal to E! News she and husband, Tommy Feight, are finally expecting a baby boy. Though the two have only been married since April of this year, the precursor to the nuptials provided endless storyline fodder — all leading up to the wedding itself. "Remember me, the one who said never?" she said on the show. "Guess what, motherf*ckers. I'm getting married!"
She said of the pregnancy, she's "really happy to open a new chapter." After the springtime loss of her father, Shams Javid, she added, "I'm hoping that my baby will remind me of my father and, of course, have a piece of Tommy and me. It's the cycle of life."
Meanwhile Season 7 has shown more of Mike's journey to find happiness after his 2016 divorce from Jessica Parido, and Destiney embarks on an emotional journey to reconnect with her estranged father. Reza's been busy renovating his new house with new hubby, Adam, and all hell breaks loose when a previous investment gets in the way of the couple's surrogacy plans. As you can see, it's been a busy season.
I may not be bale to give you a definitive answer about whether Shahs of Sunset will return for Season 8, but with all the changes going on in everyone's lives, there's surely more story left to tell. And more food left to eat (because man can they put some food away and yes, I'd love to join, thanks).