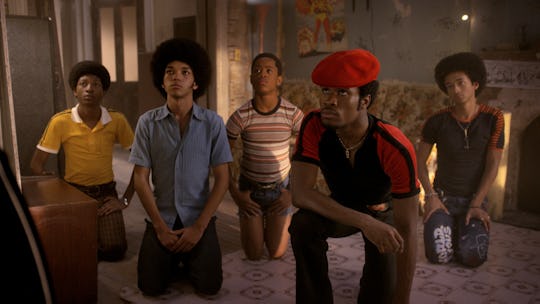 Netflix
Will There Be A 'The Get Down' Season 2? It's Unconfirmed As Of Now
Netflix has undeniably been on a role in recent months. Between the most recent, incredible season of Orange is the New Black and the smash hit debut of everybody's favorite summer show Stranger Things, the streaming channel has been churning out amazing original series all year. The latest, The Get Down, is an epic musical series following a group of teens in the '70s Bronx on the cusp of the birth of hip-hop and the death of disco. But is there going to be a Season 2 of The Get Down? The first season's huge budget might be an impetus.
With an unbelievably multi-talented large ensemble cast – including several unknowns whose careers will now surely skyrocket – and an amazing soundtrack, the show is easily one of the best of the year. Created by Baz Luhrmann, who has also directed award-winning movie musicals like Moulin Rouge!, the show has a large-scale, cinematic quality. That quality translated into a tremendous budget – according to a report by Variety, the show blew past its initial projected $7.5 million per episode budget for its first 12-episode season. At an ending budget of at least $120 million, according to Variety's sources, The Get Down Season 1 ranks as one of the most expensive television seasons of all time.
This makes a lot of sense. Licensing music from artists to be used on television or in movies is not cheap or easy and theoretically that may have had a lot to do with the larger than expected budget. Moulin Rouge!, arguably Luhrmann's most well-known movie musical, was a prime example of that. It took two years to clear all the rights for the music the director wanted to use, and even then, he didn't get every artist to agree to license their music; The Rolling Stones and Cat Stevens both nixed their music's inclusion.
Variety also noted that Luhrmann's role changed significantly. He was initially meant to be more of a hands-off producer, but as he became more involved, the budget increased. Again, this totally makes sense – the budget might have skyrocketed to movie-level production costs because a movie director was at the helm for a big portion of it.
If Season 2 is in fact commissioned – there is no word yet on whether or when that will happen – it is likely that Luhrmann will no longer have the same big role that he did in the first season. As ScreenCrush put it, Netflix insisted on retaining Luhrmann's big-budget vision despite push-back from the production company, Sony TV. A second season, if it should move forward, might have a new, "more budget-conscious showrunner" at the helm.
For now, we'll have to make do with the fabulous first season. Luckily for us, the second half of Season 1 will sort of serve as asecond season. The entire first half (six episodes) releases on August 12. But unlike all of Netflix's other original content, which debut entire seasons in one go, The Get Down will be the first the eschew that trend. The back half of Season 1 isn't set to land on Netflix until "some point in 2017."