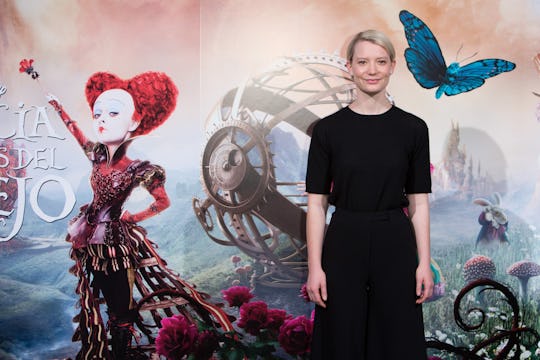 Pablo Cuadra/Getty Images Entertainment/Getty Images
Will There Be A Third 'Alice' Movie? The Sequel Goes Deeper Into Wonderland
Tim Burton fans all over the world are gearing up for the second installment of the Alice saga. After the rollicking, mad ride of Alice In Wonderland (which came out in 2010) the cast, which includes a lot of new faces, has reunited for Alice Through the Looking Glass. So, will there be a third Alice movie? They seem to be on a roll.
Alice Through the Looking Glass comes out May 27, and after the box office success of the first film (it grossed about $1.2 billion worldwide), it's expected to be a hit. It's very telling that even before it's opening day, there is already speculation about what's coming next. The star of the film, Mia Wasikowska, recently spoke with Access Hollywood about the possibilities. When asked directly if this upcoming film "laid the groundwork for a third Alice, eventually," Mia responded, "Yeah, I guess that depends on this [current film] and whether everyone else wants to do it. We'll see." It's a vague response, but fans can rest assured: Given that Through the Looking Glass will more than likely be another smash it, it's a safe assumption that there will be another Alice film to follow this year's release.
Though Burton was the brains behind the psychedelic head trip that was Alice In Wonderland, he passed off the reins for its sequel to James Bobin, the director of The Muppets. But, of course, that doesn't mean Burton wasn't involved. He acted as a producer for the film and collaborated with Bobin on the production so that there would be continuity between the films.
According to Cinema Blend, while Burton had a hand in the film, Bobin was able to make it his own. Bobin explained in an interview with the outlet,
I hope the film is a combination of Tim's great work in the first one, in terms of creating the universe and look to a degree, but also… Alice in England is a huge deal, I mean, obviously everyone in England has that book. Your grandparents have it, your parents have it, you have it. Everyone has it. You know it really well. And so, my experience of that was far more from the book in terms of the illustrations by John Tenniel, so I also knew of that world. I want to bring a bit of that to it.
Burton also provided some guidance for the new director. According to Bobin, Burton said making a movie like Alice is "not easy. It's incredibly hard." But, apparently, that wasn't enough to scare off Bobin, who jumped into the project full-force.
As for the next Alice movie, it has not yet been announced whether Bobin will direct or whether he'll pass it off to another filmmaker who feels up to the challenge of recreating the whimsy, fantasy, and frightfulness of Wonderland. But at least we know a third Alice film is a near certainty.