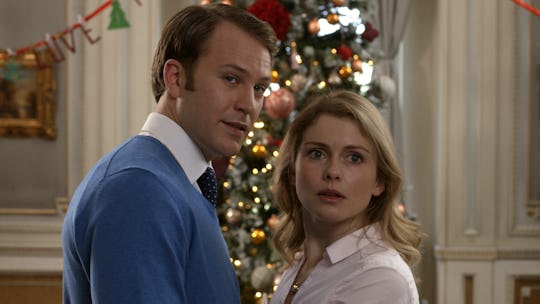 Netflix
A Third 'Christmas Prince' Movie Could Be About A Different Royal Baby
Netflix is coming in hot (or should I say cold?) with its holiday titles this year, among them the sequel to A Christmas Prince. The rom-com, which aired last year around this time, stars Rose McIver of iZombie fame, and was apparently so popular that it earned a follow up: A Christmas Prince: The Royal Wedding, streaming Nov. 30. If this looks like a pattern, will there be a third Christmas Prince movie following this one? It's hard to say, but before I can answer that, a quick recap for the uninformed:
Like so many romantic comedies, the first film began with an eager young journalist focused on her career, not love. Amber Moore goes to the fictional country of Aldovia (which sounds a lot like another made-up foreign land which earned itself an American princess — remember Genovia in The Princess Diaries?). She's looking to break a juicy story about the "wild" crown prince, Richard, and finds herself on an extremely improbable undercover mission where she pretends to be a tutor hired to teach Richard's younger sister, Emily. And you know the rest of the story: She falls in love, her true identity is revealed, but in the end there's a grand romantic gesture from Richard, and they live happily ever after.
Now, we get to actually see the "ever after." The sequel, which was announced in May, will jump forward a little in time. Since Christmas was such a special time for them, Richard and Amber are getting married on the holiday. But of course, there needs to be some conflict. Amber, who you'll remember is a writer from the U.S., will become queen when she and Richard (who is now king) tie the knot. As it turns out, she's not actually sure that's a responsibility she wants to take on (understandably). It doesn't seem like Richard's in the mix much, as there's some kind of "political crisis" to keep her fiancé busy while she frets.
Because it's a traditional rom-com in the style of a Hallmark movie, and because no one wants to watch a movie where love dies at Christmas, it's probably safe to say that Amber and Richard work things out in time for the festive nuptials, likely finding some kind of compromise where Amber gets to keep doing whatever it is makes her happy on the side. (It's a shame they couldn't do the same for Meghan Markle in real life, because she was great on Suits.) So after that's wrapped up in a holiday bow, what comes next? A Christmas Prince: Royal Baby, if they continue following in the footsteps of Meghan and Harry.
This doesn't seem too farfetched. McIver appears to be still shooting Season 5 of iZombie up in Canada at the moment, but seeing as it's expected to premiere in early 2019, they're probably wrapping up soon. This is the final season of the CW dramedy, so McIver could have some time on her hands in the future. Of course, we'll have to wait and see how the second movie goes over with audiences, but if it's anything like the first, fans of the genre are going to be begging for a three-peat.