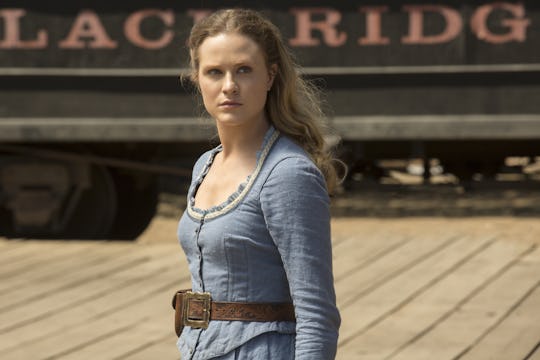 John P. Johnson/HBO
Will There Be A 'Westworld' Season 2? Mark Your Calendars
With the end of Season 1 of Westworld coming to a close, fans are already hungry for more, wondering will there be a Westworld Season 2? Luckily, due to the high ratings, pop culture prevalence, and critical success of the show, HBO has already gone ahead and ordered a second season. But it may be a while before we get to rejoin all our friends and enemies (human or otherwise) at the Delos complex.
Having done so well in its first Season, Westworld's ratings are comparable, and in some cases even greater, than that other HBO powerhouse, Game of Thrones. So it felt like Westworld was all but guaranteed a second run. It was billed as the new Game of Thrones, and it might just have the legs to carry it off. But there is some bad news to this pick-up as well. Because of the insane amount of production that goes into this series, it could be a while before we see it on our screens again. Original reports stated that Season 2, which will have another 10 episodes, will air in late 2017 or early 2018. But according to an Entertainment Weekly interview with HBO president Casey Bloys, it's more likely that it will be in 2018. That's right, Westworld-ians, you're probably going to have to wait for over a year before the return of the already beloved series.
Showrunners Jonathon Nolan and Lisa Joy have already pitched their ideas for Season 2, which Bloys says (in the same interview) sounds as exciting and as original as the first. "Jonah and Lisa great storytellers. I didn't know exactly what to expect in season 2," she stated. "And what they came up with is as exciting, mysterious and as fun as season 1." Perhaps this time they will come up with a twist to stump even the most voracious of Reddit theorists, who somehow managed to predict every major plot point of Season 1 with startling accuracy.
All that I do know right now about Season 2 is that this world is rich with possibilities and different storylines. Who knows what mysteries lie in store or what could happen next? All I can really say at this point is that I can't wait to find out (even if it won't be until 2018).