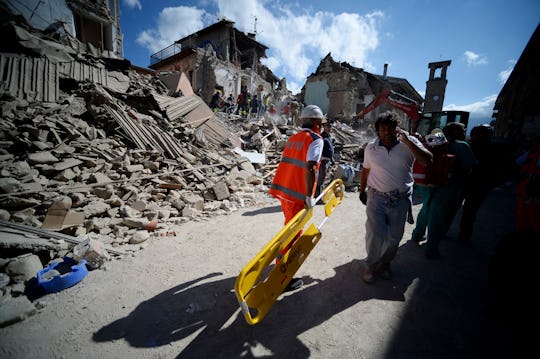 FILIPPO MONTEFORTE/AFP/Getty Images
Will There Be Aftershocks In Italy? The Earthquake Might Still Cause More Damage
At 3:36 a.m. local time Wednesday, a devastating 6.2-magnitude earthquake struck the city of Norcia in central Italy, approximately 105 miles northwest of Rome. Occurring in the middle of the night, most Italians were asleep when the earthquake struck, as buildings collapsed around them. The current death toll from the Italian earthquake is 73 people and is expected to rise as rescuers dig through the rubble, according to Reuters. Will there be aftershocks in Italy? As thousands in the area have already experienced, there have already been a series of powerful aftershocks since the Italy earthquake that occurred Wednesday. As many as 60 aftershocks occurred following the earthquake in the region, within the first four hours afterward, according to Italy's National Institute of Geophysics and Vulcanology.
The strongest of these aftershocks so far measured a 5.5-magnitude, occurring at about an hour after the original quake. Jessica Turner with the U.S. Geological Survey told CNN that residents in the affected region should be prepared for more shaking:
This was an earthquake… that is considered a very shallow earthquake. At that shallowness and magnitude of 6.2, we're going to expect lots of aftershocks for next several hours and maybe the next several days.
Writing in The New Zealand Herald, geologist and professor at the University of Melbourne Dr. Mark Quigley surmised that the aftershocks in the Umbria region of Italy could continue well beyond the next few days. He continued, "This earthquake is no surprise. This is one of the most seismically active parts of Italy as clearly identified in many seismic hazard maps." Following the devastating Aquila earthquake in 2009 — just 10 kilometers from Norcia — seismologists recorded more than 10,000 aftershocks of varying magnitude.
The aftershocks have been felt by already rattled victims in the region — even as far away as Rome — as people shared their experiences on Twitter in the hours following the Norcia earthquake:
It's been a harrowing morning for victims and rescuers as daylight broke over central Italy: Sunlight has given rescuers more light to by which to see, but it also reveals the catastrophic extent of the damage of the earthquake in Italy. According to witnesses on the ground, whole towns and villages have been nearly wiped out by the Italy earthquake. Sergio Pirozzi, mayor of the hardest hit town of Amatrice, spoke to the Associated Press saying, "Half the town is gone. There are people under the rubble. The town isn't here anymore."
Residents of the affected region are not out of the woods yet: As aftershocks continue to rock the region, buildings and structures that were already damaged could become more unstable, further hampering search and rescue efforts. These aftershocks also have the potential to cause landslides and building collapses, potentially claiming more lives. According to a statement issued Wednesday morning, Italian Premier Matteo Renzi will head to the region later on Wednesday to personally witness and assess the damage.