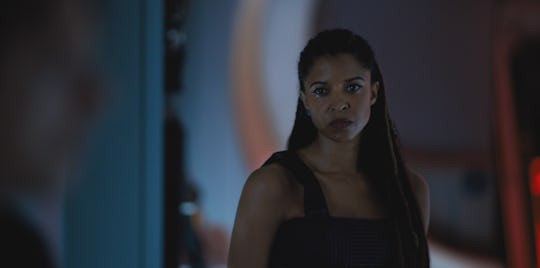 Netflix
Netflix's New Series 'Altered Carbon' Proves To Be An Out Of Body Experience — Literally
Another Friday means another new Netflix series has debuted, and this one is filled with familiar faces. Altered Carbon is the latest original series Netflix is bringing to the small screen and like many TV shows and movies these days, it's based on a book series written by Richard K. Morgan and is three books long. So fans are certain the first season won't cover all of the source material, leaving many to wonder: will there be an Altered Carbon Season 2?
According to Spoiler TV, Netflix quietly renewed the series for a second season and production for Season 2 has already begun. However, Netflix hasn't actually confirmed this news so fans will just have to wait and see if there's any truth to that. However, it wouldn't be surprising if it was already renewed. When Netflix officially announced the Season 2 renewal for Mindhunter, it'd already started production of the second season of that series as well. Perhaps Netflix is just keeping the Season 2 renewal of Altered Carbon under wraps until the show gains more popularity.
Regardless of whether or not Altered Carbon gets renewed, this first season certainly looks like a good one to watch. Sticking pretty close to the book, the new series takes place more than 300 years into the future, where humans can now live forever if they can afford the procedure to have their consciousness saved and then put into another body, or "sleeve."
This is what happens to the show's main character, Takeshi Kovas, who was "dead" for 250 years. As the lone surviving soldier of a group of elite interstellar warriors, he is "awakened" by Laurens Bancroft, a rich man who hires Takeshi to figure out who murdered Laurens in his last body. Of course, this is no easy task and if Takeshi can't figure out the truth fast enough, Laurens will put him back down. Yikes!
Starring as Takeshi is House of Cards actor Joel Kinnaman and Will Yun Lee, who you may recognize from The Wolverine, will also be playing an incarnation of Takeshi. Renée Elise Goldsberry, who's best known for her Tony award-winning role as Angelica Schuyler in Hamilton, will also appear in the series as Quellcrist Falconer.
As the trailer of the series suggests, the show will be filled with a lot of action and a few bouts of comedy as well. Although Takeshi can certainly hold his own in a fight, he'll also be teaming up with a few different people over the course of the season. However, as the trailer hints, there's no one he can really trust, especially in a world where people can change their bodies and faces at the drop of a dime. No doubt the show will be filled with some twists and a few bouts of mistaken identities, but all in all it looks like an interesting dystopia.
In the book, the setting was Bay City (previously known as San Francisco) and it looks like the TV series will be sticking with that. In the trailer, you can see a very old and rusted looking Golden State Bridge, which gives a little insight into what this world will be like. Although there have been great advances in technology, it seems like the message here is that great advances can also come with a price.
If you're a fan of Blade Runner, Westworld, or sci-fi series in general, this definitely seems like the perfect show for you. Plus, with such an incredible cast, it's bound to be good.
Altered Carbon is now streaming on Netflix.
Check out Romper's new video series, Romper's Doula Diaries:
Watch full episodes of Romper's Doula Diaries on Facebook Watch.