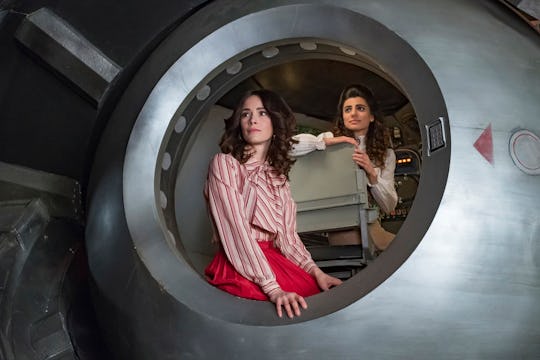 Ron Batzdorff/NBC
Fans Are Still Hoping For Another Season Of 'Timeless'
If Timeless fans could turn back the clock in real life, they would probably have started the #RenewTimeless campaign a lot sooner. After cancelling and then renewing Timeless after its debut season last year, NBC has once again cancelled the series, and this time it looks like it's permanent. However, as they did last year, fans of the popular time-traveling show have taken to social media to save Timeless once again, this time in hopes that another network or streamer picks it up. So will there be another season of Timeless? Fans are anxiously waiting for a last minute save.
As of now, no network or streamer has indicated any interest in picking up the series for a third season, but there is still a chance fans will get one last dose of Timeless through NBC. In a series of tweets, the show's co-creator Eric Kripke revealed that he is negotiating a two-hour movie deal with NBC, which would allow the series to end with some closure for the fans. However, there's always a chance of some network swooping in to pick up the series, and while getting a movie is better than nothing, I think a third season is what most of the fans are rooting for.
Although a movie would be a great consolation prize, Timeless is a show that really deserves another few seasons. The series has been able to take real life historical moments and add weight and perspective to them in a modern way. It has a way of highlighting the privileges this country enjoys through the contributions of people like Harriet Tubman and Madam Curie. It would be a disservice to end such an entertaining and enriching show, especially in a time when historical perspective and reflection is so crucial.
Luckily, through the influence of social media, Timeless fans, also known as Clockblockers, have a platform to air their grievances and demands. From the day Timeless' future became uncertain, fans have been tirelessly tweeting to #SaveTimeless. Fans are appealing to streamers like Hulu, Netflix, Youtube, and Apple TV to pick the series up. When Netflix picked up the supernatural drama Lucifer after it was cancelled by Fox, hope for the future of Timeless looked a little brighter.
Some celebrity Clockblockers joined the fight as well, including Leslie Jones, William Shatner, and Mark Hamill. Pop icon, Kelly Clarkson, who has over 12 million Twitter followers, actually started the #RenewTimeless campaign and has been tweeting to save it ever since. In an interview with USA Today, Clarkson revealed why she loved the show:
Oh my gosh. I love it. There's not that many scripted shows like this. They came up with a really cool, interesting concept — really rad. I'm so upset it's not a given that this show should stay on TV. I'm fighting for it.
As a fan of Timeless myself, I agree with Clarkson that this show is worth fighting for. With all the reality TV, crime dramas, and comedy shows out there, I think there is a space for smart shows like Timeless, which elegantly blends science fiction with history to create a drama enjoyed by whole families. Plus, after last season's major cliffhanger I, along with other fans, am anxious to see what happens to my favorite time travelers, and whether they are able to save Rufus after he was shot and killed during the season finale.
If you don't know what all the fuss is about, you can currently stream the first two seasons of Timeless on Hulu. If you are already a Clockblocker, continue to take to social media to #SaveTimeless.