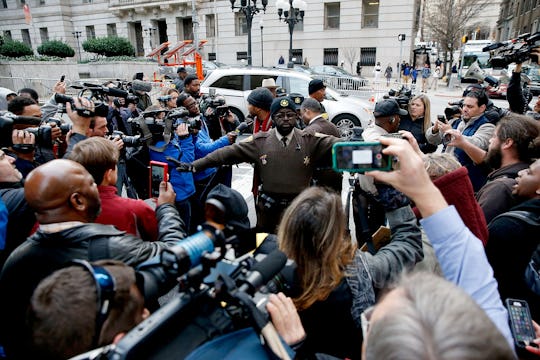 Will There Be Another Trial For Officer William Porter In Freddie Gray's Death? Protestors Won't Be Silenced Until A Date Is Set
The high-profile and highly controversial case on the murder of Freddie Gray was declared a mistrial Wednesday, according to ABC News. Despite intense deliberations since Tuesday afternoon, the hung jury was not able reach a unanimous decision. The deadlock led to a declaration of mistrial, but will there be another trial for Officer William Porter? There will definitely be a new trial, but it's entirely unclear when it will take place.
The jurors reported to the judge that they could not reach a decision on any of the four charges leveled against Porter, whose role in the death of Gray remains murky. He is the first of six officers to stand trial, and following the intense nationwide protests, rioting, and looting, the outcomes of each hearing will be highly anticipated and controversial no matter the verdict. Gray's death threw the city of Baltimore into the most violent chaos it has seen since the assassination of Martin Luther King Jr. in 1968, according to the Baltimore Sun.
The trial attorneys are expected to appear in court again for an administrative meeting with Judge Barry G. Williams on Thursday to potentially pick a date for the retrial, according to the New York Times. Though, according to ABC News, it is unclear whether the state will pursue a retrial at all. It is unlikely Porter will be in attendance.
Like the other five officers involved, Porter pleaded not guilty to the charges leveled against him. Since Gray's death in April, the city has been on edge, and now, lacking resolution, that is expected to continue. Protests have already broken out in Baltimore.
Rev. Cortly Witherspoon, who is president of the Baltimore Southern Christian Leadership Conference, has been leading small nightly protests in Baltimore, according t o the New York Times. On Sunday, he told the Times that the city of Baltimore would not be able to sweep Gray's death under the rug:
African-American men are being murdered by the police. If the city wants to act as if this is not happening, or they want to dismiss how people feel about this, I believe there could be some major consequences.
Image: Getty Images