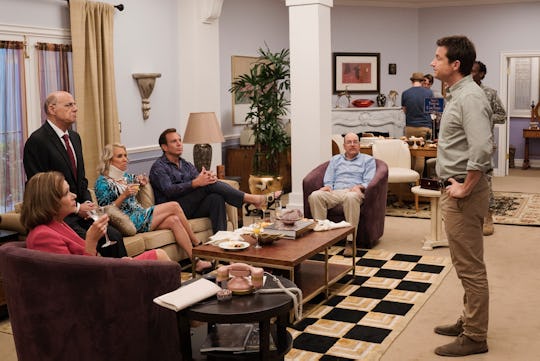 Saeed Adyani/Netflix
The Future Of 'Arrested Development' Is Pretty Unclear
After a very long wait, an all-new season of Arrested Development is finally here! The new episodes will continue to show the wild antics of the dysfunctional Bluth family as they find themselves facing new challenges and getting into even more interesting predicaments. Even though the new season was just released, fans are already asking, will there be an Arrested Development Season 6?
The series, which began on FOX before Netflix revived it, hasn't been renewed for Season 6 yet, but that doesn't really mean much. Arrested Development has been on it's own schedule since FOX canceled it after three seasons. Netflix brought it back with Season 4 in 2013, but it seemed like that was the end of the road for the series -- until Netflix announced the comedy was returning for Season 5 this year. That being said, there are a number of things that could prevent another season from being made, the biggest being the sexual harassment allegations made against Jeffrey Tambor, who plays the shows patriarch, George Bluth Sr.
Two of Tambor's Transparent costars, Van Barnes and Tracy Lysette, made allegations against Tambor that first led to an investigation and then, ultimately, Tambor being dismissed from the series. Despite this, plans for Arrested Development Season 5 continued since the season was already filmed. But, what was most unexpected was that Tambor went on to do press for the series, which led to a New York Times article that now has many fans calling for the show's cancellation -- or to at least get rid of Tambor.
The article, which was posted on May 23, six days before the new season premiere, centered around an interview with most of the cast, including Tambor, Tony Hale, Alia Shawkat, Jessica Walter, Will Arnett, Jason Bateman, and David Cross. During the conversation, the sexual misconduct allegations against Tambor were brought up, but it was a conversation about Tambor's behavior on the Arrested Development set that really got people's attention.
Previously, Tambor had mentioned in an interview with The Hollywood Reporter that he had yelled at Walter, his onscreen wife, on set. Walter opened up about her thoughts on the incident with The NY Times. She said, through tears, "I have to let go of being angry at him. [In] almost 60 years of working, I've never had anybody yell at me like that on a set and it's hard to deal with, but I'm over it now."
However, Bateman then came to Tambor's defense, claiming that Tambor's behavior was typical of some performers, an idea Shawkat, the only other woman from the cast at the interview, quickly shut down. "That doesn't mean it's acceptable," she said. Regardless, throughout the rest of the article, which includes some audio clips of the interview, the male cast members seem to continuously defend Tambor's actions. Understandably, this angered fans, including many who were long time watchers of the show.
A number of people took to Twitter to call the cast a "boys' club" and noted that it was unfair that Walter just had to accept Tambor's behavior as the norm. Since the public outcry both Bateman and Hale have issued apologies to Walter over their comments in the interview. Walter has not issued a response at this time. Even if she does, it's hard to say if Bateman and Hale's apologies will be enough for fans of the show.
Following The NY Times article publication, Netflix cancelled other upcoming Arrested Development events leading up to the show's premiere, and though there was no reason given it's not a big jump to assume it was because of the reaction to the interview. Thus, it feels safe to assume that Netflix may already be rethinking what Tambor and the rest of the cast's actions could mean for the future of the show. For now, there's no news about cancellation or a renewal so all fans can do is wait and see what happens next.