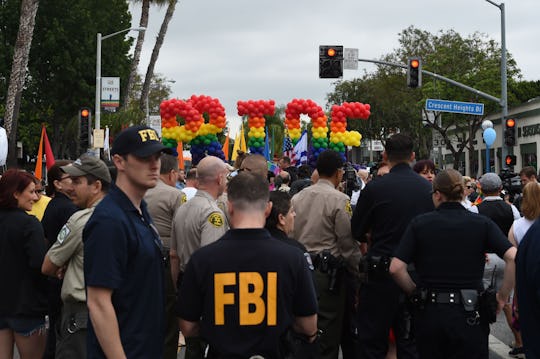 MARK RALSTON/AFP/Getty Images
Will There Be More Security At Pride Events? Pride Parades Continue Despite Tragedy
It's been a devastating weekend for gay pride in the United States. On Sunday, a shooter walked into Pulse nightclub in Orlando and opened fire, killing 50 people and injuring over 53 more, making it the deadliest mass shooting in American history. Soon after, in Los Angeles, a man on his way to the 2016 Gay Pride Parade was arrested after reportedly being found with weapons, an assault rifle, ammunition, and explosive materials in his car. Considering the happenings that have unfolded in the past 24 hours and upcoming parades during Pride Month, will there be more security at pride events?
(Update: The FBI has updated the death toll to 49 victims. The shooter was also killed.)
At least for the time being, the answer seems to be a resounding "yes." After the Orlando shooting and the discovery of the L.A. shooter, security was ratcheted up at the Los Angeles Gay Pride Parade, where the show went on despite the horrific happenings earlier in the day. Lindsey Horvath, a West Hollywood city councilwoman, told The Los Angeles Times that security efforts would be increased, although officials believed the parade was not under threat.
Los Angeles wasn't the only city to increase its vigilance in the wake of the news in Orlando. Philadelphia also increased police presence at the Philadelphia Gay Pride Parade, prior to its Sunday morning start-off, according to NBC.
In Washington, D.C., police instated additional security measures and increased their presence at the pride parade, according to The Washington Post. In Boston, The Washington Times reported that security would be increased at pride events, block parties, bars, and nightclubs, and Portland police said they would be increasing security patrols in the city's downtown entertainment area and at pride events. Security concerns even reached Canada, where Toronto police said they would be "actively reassessing" security measures at upcoming pride events.
June marks Pride Month across the United States, meaning there will be many more pride-centered events. Security will likely increase at most of them, although, outside of L.A. and Orlando, no specific risks have been reported. Many members of the LGBTQ community have expressed how the Orlando shooting and the Los Angeles gunman represent the importance of continuing to celebrate pride. While the LGBTQ community has celebrated many victories — just last year, same-sex marriage was legalized across the United States — members of the community remain the subject of hate crimes, and there is still quite a way to go in creating a deeper acceptance throughout the nation.