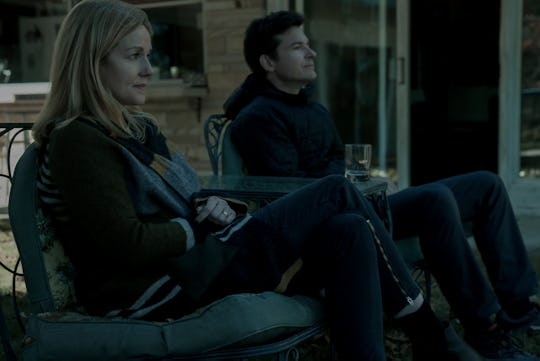 Jessica Miglio/Netflix
Here's What You Need To Know About 'Ozark' Season 3
Netflix just premiered Season 2 of Ozark, which follows Marty Byrde and his family as they are pressured to launder millions of dollars for a drug cartel, amidst threats from local criminals and the Feds. And while fans are just getting to dive into the series' second season, they're also looking ahead with hope for another one. Will there be an Ozark Season 3? Fans just can't get enough of the Byrde family.
While there hasn't been an official renewal announcement from Netflix, there are some factors that could indicate a Season 3 return. For starters, in a recent interview on The Ellen Show, the series' lead actor and director Jason Bateman hinted towards the show's future prospects. When talking about his future schedule he told Ellen, "Ozark looks like – god willing – it'll be going for a little bit, so that'll be six months of the year." While it isn't a direct confirmation, the statement does indicate that Bateman has plans for a subsequent third season.
Another factor that may contribute to Ozark's return next year is the hype and buzz that surrounds it. Unlike the majority of network and cable TV, Netflix doesn't release ratings, so it's hard to tell why they renew or cancel their shows. Some Netflix shows — like Stranger Things and The Crown — have been extremely popular, and it was a no-brainer when they were renewed.
Ozark has shared a similar popularity, especially among critics, and has earned four Emmy nominations (including Lead Actor, Directing, Cinematography, and Production Design), one Golden Globe nomination (for Lead Actor), two SAG Award nominations (for Lead Actor and Actress), and a Writers Guild nomination (for Best New Series). If the show takes home an Emmy this September, I'm sure Netflix will seriously consider renewing it for a third season (if they haven't already).
With Bateman's optimistic foreshadowing on the fate of the show, combined with the many accolades it has garnered, it's safe to assume that Netflix will renew Ozark for Season 3. The first season premiered in July of 2017, and Season 2 premiered in August of 2018. So, if the show returns for a third season, you can expect it to hit Netflix in the summer or fall of 2019.
For now, you can watch Marty and his wife Wendy (Laura Linney) working hand in hand to pull their family out of danger by building a casino in the Ozarks, with the hopes that everything goes right so that they can run away to start a new life. But with the drug cartel's fierce lawyer, Helen Pierce (Janet McTeer), the criminal Langmore family, and the Snell mob breathing down their necks, the casino project won't be easy.
The first season of Ozark didn't end with an intense cliffhanger (like some shows do), and I'm hoping that Season 2 will end in a similar fashion. With some amount of closure, waiting for a new season just seems easier. And with all the chaos in the world, the last thing you need is another cliffhanger to cause you anxiety. Luckily, the pace and tone of Ozark is not too hectic, and it allows you to really indulge in the peril and perseverance of the resilient Byrde family, along with the picturesque Ozarks.
Hopefully, Ozark will land some well-deserved accolades at the 2018 Primetime Emmys, which should prompt Netflix to release news on a third season. Until then, you'll just have to sit tight and wait for the good news.
Ozark Season 2 premieres on August 31 on Netflix.