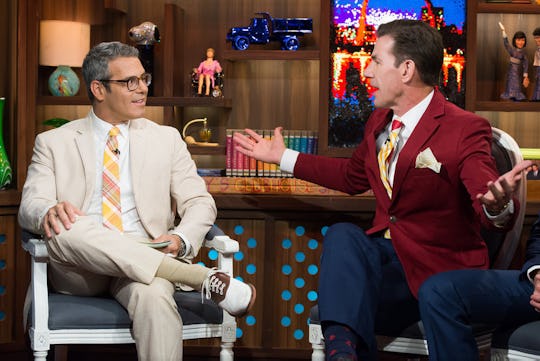 Charles Sykes/Bravo
Will Thomas Ravenel & Kathryn Dennis Get Married? The 'Southern Charm' Couple Needs Space
Don't laugh when you read this, but there was a point during Southern Charm's earlier seasons where I thought that Kathryn Dennis and Thomas Ravenel would get married. I know, I'm a hopeless romantic, or maybe just hopeless. Now, looking at their relationship, Thomas and Kathryn need to get married like Ms. Patricia Altschul needs to get her own Manhattan. Neither should probably ever, ever happen. But, I'm not the one making the decisions, am I? So, will Kathryn Dennis and Thomas Ravenel get married on Southern Charm, or will this relationship fizzle like some sweet tea in the hot Charleston summer?
There are many reasons that I, a viewer, don't believe these two should get married. First of all, their relationship is one of the most volatile things reality TV has ever produced. The two are constantly making headlines accusing each other of things that the other quickly disputes. Then again, it almost makes them perfect for each other. Besides, I don't have any say in the two's relationship, so if they want to get married, they very well could.
Then again, I don't know if they're really itching to do that.
In a recent interview with People, Kathryn revealed that she felt like she lost her own identity while in a relationship with Thomas. "It's been a little bit of a shock to lose that part of my life but it's really refreshing. I am learning who I am, what I like, what I want and enjoy. It's been great."
As for their current relationship, Kathryn shared with the magazine that "We were still kind of on and off, but we've been pretty much done since Julien. The phase where Thomas was going to try and make it work right after I had Julien lasted for about a week."
Could these two get married? Yeah, they totally could. Right now, that would be insane, since they seem to be working on their own thing at the moment, but it could happen. Maybe after all of the dust settles these two will be able to get back to what originally attracted them to each other. But, for now, it seems important that they are happy before they reconcile for good.
As for a Southern Charm wedding, well I've already planned it in my head. Andy Cohen officiates, held at one of Cameran's houses for sale, Whitney is on videographer duty, all while Patricia is tending the bar. Something like that.