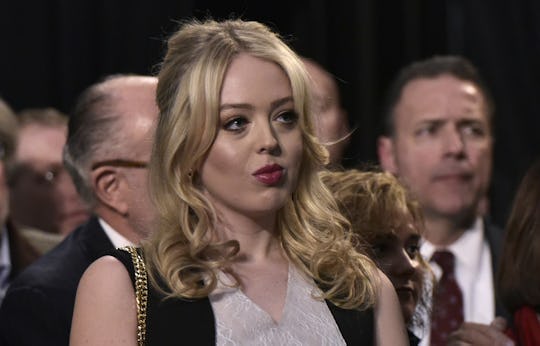 MANDEL NGAN/AFP/Getty Images
Will Tiffany Trump Go To Harvard Law? She Was Reportedly Seen Touring The Campus
While President-elect Donald Trump's three oldest children — and Trump Organization coworkers — often steal the limelight, 23-year-old Tiffany Trump has been gaining her own share of attention. In July, she delivered a speech at the Republican National Convention when her dad was nominated, then stumped for him in cities alongside older sister Ivanka. More recently, she's been posting LSAT prep pictures on Instagram (okay, maybe it was just one), and she was recently spotted on a prestigious university's campus tour, which begs the question: will Tiffany Trump go to Harvard Law?
It's a possibility. According to People, Tiffany got a major in sociology with a concentration in law at the University of Pennsylvania, so it could be something she's had in mind for a while. However, she only made her law ambitions known more recently: after modeling in her friend's show at New York Fashion Week, Tiffany made it clear to Page Six that she was only doing a friend a favor. "I'll be taking the LSAT and then applying to law school within the next year," she explained. When asked about a possible future at the Trump Organization, she said, "Everything is up in the air, but I think the education that you get can never be taken away from you."
Then, in September, Tiffany posted a picture of a stack of LSAT prep books on Instagram, along with a Bitmoji that read "I got this."
Finally, on Tuesday, Tiffany was reportedly spotted touring Harvard University's campus. According to Politico, several sources on the university grounds saw her walk through both a lounge area and the library, accompanied by a group of Secret Service agents. Considering that Harvard Law applications don't close until Feb. 1, 2017, it's entirely possible that Tiffany has plans to attend the school.
According to the president-elect, Tiffany also probably has the grades to make it into Harvard. "She's got all A's at Penn, so we're proud of her," Trump told People in 2014. She graduated in May this year, with her father, mother, and two siblings (Ivanka and Barron) all in attendance.
If Tiffany does attend Harvard University, she wouldn't be the only president's daughter to go there. In fact, President Barack Obama's oldest daughter, 18-year-old Malia, has plans to attend the university in 2017, according to The New York Times. (Both Obama and his wife, Michelle, graduated from Harvard Law.) However, until certain decisions are made, exams are passed, and applications have been accepted, it might be a while before we know if Tiffany will be joining Malia in Cambridge, Massachusetts.