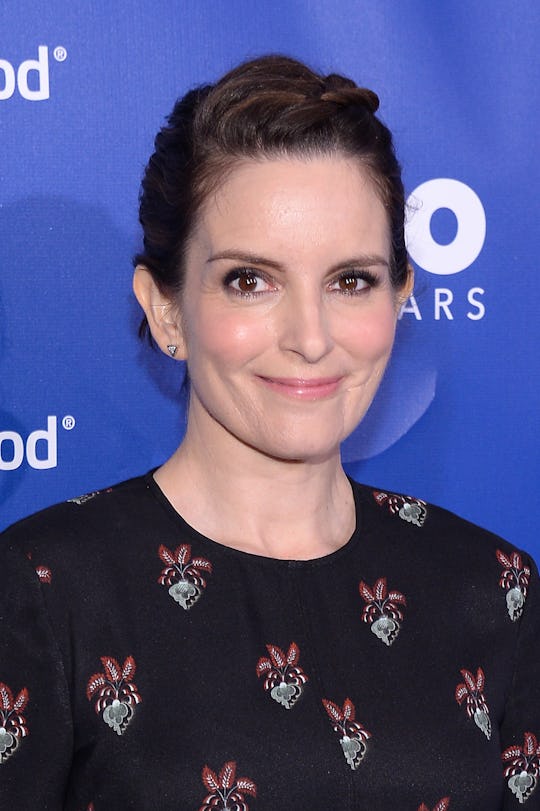 Andrew Toth/Getty Images Entertainment/Getty Images
Tina Fey's 'Kimmy Schmidt' Cameos Are Unforgettable
The third season of Unbreakable Kimmy Schmidt is now upon us and anticipation is at an all-time high. Over the past two seasons, Unbreakable Kimmy Schmidt has become known for its whip-smart dialogue, dizzyingly eccentric (and hilarious) situational comedy, and its amazing roster of guest actors. Before the new season's debut, many fans are wondering about one particular past guest star and whether they'll be returning at some point during the latest batch of 13 episodes. So, will Tina Fey be in Unbreakable Kimmy Schmidt Season 3?
Dedicated viewers of the show are well aware of Fey's ongoing involvement in it. She, along with Robert Carlock, co-created the Netflix sitcom back in 2015. As with Fey's earlier works, she's been both behind the camera and in front of it — on 30 Rock, she was the creator, writer, executive producer, and also starred as everybody's favorite acerbic one-woman powerhouse, Liz Lemon.
On Unbreakable Kimmy Schmidt, Fey has guest starred in two very different roles. During Season 1, she appeared in several episodes in the minor role of Marcia Clark — not the Marcia Clark popularized last year by Sarah Paulson in The People v. O.J. Simpson, but an obvious homage to the real-life former prosecutor — during Reverend Richard Wayne Gary Wayne's trial. During Season 2, she played the much more prominent and plot-relevant role of Andrea Bayden, Kimmy's alcoholic psychiatrist. But will she be returning as either of these characters, a new one, or not guest starring in the new season at all?
Good news, everybody: Fey will definitely be guest-starring on the show this season, alongside other returning guests including Jon Hamm, Fred Armisen, Anna Camp, Josh Charles, Amy Sedaris, and David Cross. Personally, I'm beyond excited to see Hamm's Reverend again — particularly with that major Season 2 cliffhanger revealing that he and Kimmy were actually married.
Also can't wait to see more of Armisen's Bobby Durst, aka Lillian's boyfriend, aka the show's weirdest recurring character.
Kemper confirmed to Business Insider that Fey will be making an appearance as Andrea Bayden later on in the season. Her appearance will be in the second half of Season 3, since Business Insider reported that she didn't appear in any of the six episodes that Netflix made available for press to review ahead of the season's premiere. Kemper also revealed that this season Kimmy will be working on her PTSD from her years of captivity, so it's likely that Andrea's reappearance has something to do with that storyline.
But Fey will have more than one on-screen appearance this year. She told Jimmy Fallon during a recent Tonight Show interview that she's also "an Easter egg" in Season 3 — "an upsetting one" that apparently has something to do with her recreating adorable 1970s child actor Mason Reese tap-dancing on The Mike Douglas Show.
In any case, I can't wait to see Fey in any capacity on the show — she's always a welcome addition to any comedy and especially the ones she writes herself.