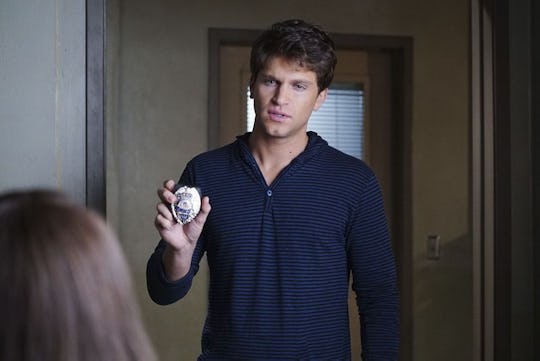 Eric McCandless/Freeform
Will Toby Die On 'Pretty Little Liars'? Someone Is Doomed
Things have been getting real in Season 7 of Pretty Little Liars and they're only going to get realer. The end of A's reign and Charlotte's death started off a chain reaction that resulted in the rise of A.D. – a bigger threat with an even meaner streak than their predecessor. Fans have already seen Hanna tortured and Sara Harvey killed, and it doesn't look like that's the end of it. The show's Twitter has been promising a #PLLDeathtrap and someone is absolutely a goner. But who? One theory has been dominating all the others: is Toby dead on Pretty Little Liars?
The synopsis for Season 7 Episode 10, "The Darkest Knight," promises a messy fight that ends in a fatality. But why has Toby been singled out as the one that bites the bullet, so to speak? There have been hints here and there that could point to his death. Everything is finally working out for Toby: he's happy, he's engaged, and he's leaving town. Despite the fact that Spencer is now a free agent again, it doesn't really look like she and Toby are on their way to reconciliation – it seems more like they've reflected on the good times they shared and are ready to move on. They share a kiss in the finale, but it seems more like a goodbye than a hello again. And you know that any time a character is happy and ready to let go, they're pretty much primed for death in TV world.
When asked about the midseason finale's death, Freeform's executive vice president of programming and development Karey Burke would only say that it was "a biggie" and that anything can happen in Rosewood, perhaps implying that no character was safe. There have also been reports that Spencer and Toby will get into a car accident that has life-changing reverberations, with another theory wondering if Jenna shoots him by accident because she is seen with a gun in the promo. Then there's the fact that actor Keegan Allen has reportedly not been on set to film for Season 7B (though he did visit) and that his tweets have seemed fairly final in their nostalgia. Plus IMDB only reports him as being on the show until 2016, whereas most of the rest of the cast is listed until 2017; IMDB is a highly imperfect source, but it is an interesting tidbit.
Troian Bellisario also reportedly called showrunner Marlene King crying after filming a scene with Allen that left her especially emotional and King tweeted a line from a scene between Toby and Spencer that has fans buzzing: "Can I kiss you?" Some are speculating they could be his last words since a reunion doesn't seem imminent between them, and because of Bellisario's comments about filming a tough final scene with Allen. Plus Sasha Pieterse described Season 7 as both the "most romantic" and the "most deadly." What could fit both descriptors better than Toby asking for a final kiss before he kicks the bucket?
Toby does die in the book series the show is based on, and his death was already teased several seasons ago as a way to unspool Spencer enough to send her to Radley. He hasn't had much of a presence on the show since it jumped forward in time and to be honest, it hasn't affected things on the show all that much. He could be the perfect character to kill off because it would have a big impact on the other characters and the fans without disturbing the main storylines all that much.
If Toby does die, then it certainly will have been a bad year for Spencer.