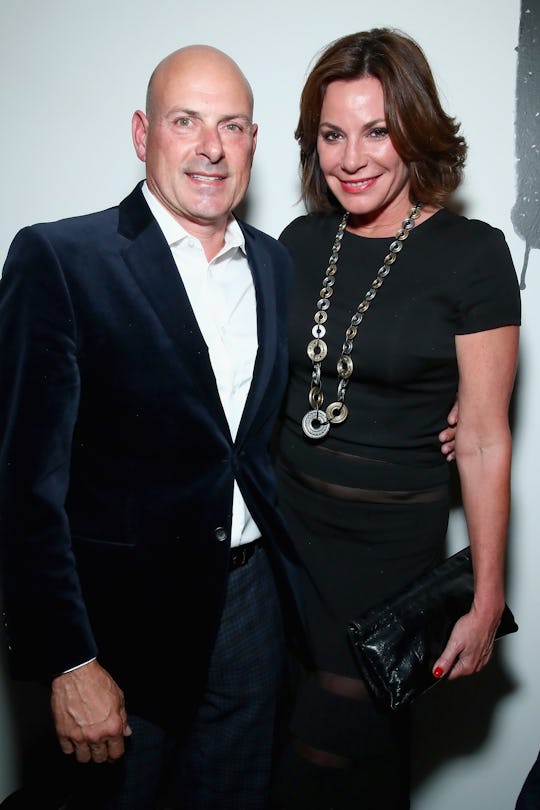 Astrid Stawiarz/Getty Images Entertainment/Getty Images
Tom D'Agostino Might Have A Presence In 'RHONY' Season 10
The Real Housewives of New York never fails to deliver on drama, which is why fans are so enthusiastically awaiting the premiere of its tenth season. Those who have kept up with the women offscreen know former countess Luann de Lesseps has had a busy few months between seasons since her divorce from husband Tom D'Agostino. Catching up with Luann is a must when the show returns, and some might be wondering if Tom D'Agostino will return to RHONY too, perhaps to provide his side of the story.
It's hard to imagine that Tom will be much of a presence on the upcoming season because he was never on the show very often previously. He would occasionally appear during events he was hosting with Luann, but otherwise he was rarely onscreen. However, even though he wasn't physically there, he still felt like a major part of the show because Luann and the other women talked about him constantly. It definitely looks like he'll continue to be a topic of conversation in Season 10.
In a first look at the season, Luann remarked on how much her perspective has changed since the divorce, even wondering aloud to her daughter why she felt she had to get married. It appears Luann will be opening up about everything that's happened to her in the last few months, which includes talking about her relationship with Tom. But since Tom isn't a member of the cast, it doesn't seem like he'll be joining the show.
Tom has spoken about the divorce publicly before, though not often. He released a statement to E! News in September 2017 that read:
"I fell in love, got married quickly and am very sad that two people in love are not together. The publicized reasons for the divorce make for a great Reality TV story line. I wish Luann much happiness and love."
In one scene from the upcoming tenth season, Luann and Dorinda discussed the dissolution of the marriage and how Luann felt about it. Both women commented on the fact that things worsened shortly after the wedding, though according to Luann, she had "blinders on" about Tom. She didn't want to believe the less than savory things being said about him, but ultimately she felt so disrespected that she had to call it quits.
Luann discussed Tom seeing other women while they were together, which she often wouldn't find out about until someone else told her later. Those appear to be the "publicized reasons for the divorce" Tom mentioned in his statement. It doesn't look like he has commented on those allegations in public, nor does it seem like he'll be on the show to talk about it himself.
A source told Us Weekly that Tom was uncomfortable with how public Luann's life was, which (if true) could be why he's not going to be on Season 10 of RHONY. If he didn't want to be on the show before, it wouldn't make much sense for him to be on it now. An unnamed insider told the magazine, "Tom couldn't handle the reality TV lifestyle. He was waiting for the hamster wheel to stop after filming, but it did not." Later on, they added:
"Tom is a very private person. He's very close with his family and he can give a presentation to thousands of people, but hates having a camera in his face."
Another source told Radar Online that the opposite was actually true. They said that Tom "loved being on the show more than Luann does" and that she was actually planning to quit the series before Tom convinced her otherwise. It's impossible to say which anonymous source is the more accurate of the two, but unless the promos are holding back a big reveal, it doesn't seem like Tom will be a part of the new season.
Check out Romper's new video series, Romper's Doula Diaries:
Watch full episodes of Romper's Doula Diaries on Facebook Watch.