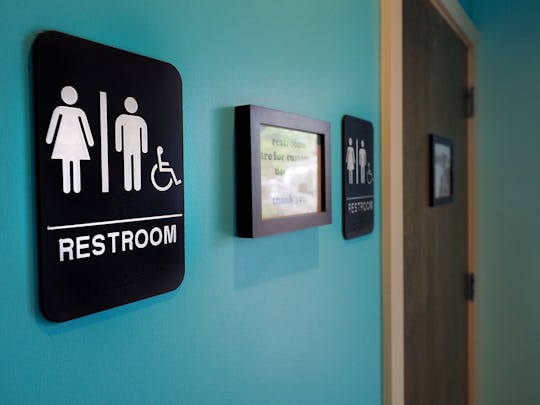 Sara D. Davis/Getty Images News/Getty Images
Trump Blocks Transgender Kids From The Bathroom
As of early Wednesday evening, the Trump administration had officially lifted federal guidelines that required schools to allow students to use whatever bathroom they felt most comfortable with. So will transgender students automatically be banned from using the bathroom that matches their gender identity now? It's very likely, given that Press Secretary Sean Spicer said earlier in the day that the President was a "firm believer in states rights." The move constitutes an entire upheaval of the message that the Obama administration sought to send to school districts about equal rights for all students under Title IX, which bans sex discrimination in education.
The administration sent a letter to states saying that the fight for transgender students to use bathrooms was leading to far too many legal arguments and that the reversal of the Obama-era protections was "to further and more completely consider the legal issues involved," according to CBS News.
The administration took care to say that this move "does not leave students without protections from discrimination, bullying, or harassment." It added, "All schools must ensure that all students, including LGBT students, are able to learn and thrive in a safe environment."
Attorney General Jeff Sessions said in a statement that the Obama-era guidelines, "did not contain sufficient legal analysis or explain how the interpretation was consistent with the language of Title IX." Although Sessions said that the administration would be reviewing the guidelines, this leaves transgender students, and transgender people as a whole, in limbo.
It is true: Since former Attorney General Loretta Lynch and Obama issued a statement last year saying that schools receiving federal funds would have to allow transgender students to use a bathroom based on whatever gender they identified with, there has been an increase in litigation, mostly because there are still many states and school districts that believe transgender individuals shouldn't be able to use the bathroom that corresponds to their gender. Most notably, transgender teen Gavin Grimm is headed to the Supreme Court this spring, fighting a Virginia school district that wouldn't let him use the bathroom that matched his gender identity.
The reversal of the Obama-era guidelines mean that school districts, under state guidance, would be able to bar a transgender student from using a bathroom they felt comfortable using. No matter what the new administration says, does not protect them from "discrimination, bullying, or harassment."
This isn't a political issue, but a human rights issue. According to the The National Center for Transgender Equality's 2015 U.S. Transgender Survey, transgender kids that get parental and community support are less likely to suffer from mental health issues or commit suicide. Later in life, transgender people, without the right kind of support, are more likely to be estranged from their families, end up homeless, or succumb to substance abuse.
These are the kind of issues that the Obama administration took into consideration when ordering schools to make bathrooms all-gender. Because when a school takes away a bathroom, the school becomes the bully in a transgender child's eyes.